the technical background to lehnical breakthrough the Leyland semi-automatic gearbo ith the new integral splifter unit
10th November 1967
Page 108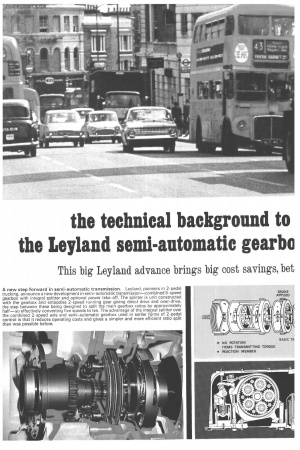 Page 109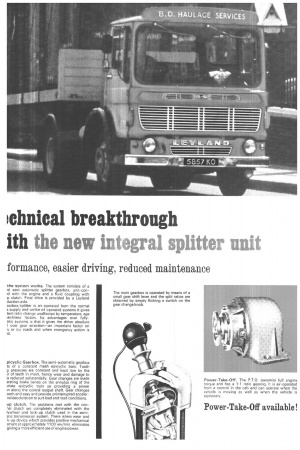 Page 108, 10th November 1967 —
the technical background to lehnical breakthrough the Leyland semi-automatic gearbo ith the new integral splifter unit
Close
A new step forward in semi-automatic transmission. Leyland, pioneers in 2-pedal trucking, announce a new development in semi-automatic transmission—combined 5-speed gearbox with integral splitter and optional power take-off. The splitter is unit constructed with the gearbox and embodies 2-speed running gear giving direct drive and over-drive, the step between these being designed to split the main gearbox ratios by approximately half—so effectively converting five speeds to ten. The advantage of the integral splitter over the combined 2-speed axle and semi-automatic gearbox used in earlier forms of 2-pedal control is that it reduces operating costs and gives a simpler and more efficient ratio split than was possible before.
the system vvorks. The system consists of a rd semi automatic splitter gearbox, unit-con!d with the engine and a fluid coupling with p clutch. Final drive is provided by a Leyland duction axle.
earbox/splitter is air-operated from the normal s supply and unlike oil operated systems it gives tent ratio change unaffected by temperature, age ranliness factors. Its advantages over fullyatic systems is that it gives the driver absolute I over gear selection—an important factor on v or icy roads and when emergency action is rd.
pi cycl ic Gearbox. The semi-automatic gearbox ts of a constant mesh epicyclic train. Tooth g pressures are constant and kept low by the rr of teeth in mesh, hence wear and damage to is reduced substantially. Gear changes are made crating brake bands on the annulus ring of the date epicyclic train so providing a power In along the central output shaft. Gear changes ooth and easy and provide uninterrupted accelernd deceleration to suit load and road conditions.
up clutch. The problems met with the conlel clutch are completely eliminated with the lywheel and lock-up clutch used in the semiatic transmission system. There is less wear and k-up device which provides positive mechanical dient at approximately 1100 revimin, eliminates giving a more efficient use of engine power. The main gearbox is operated by means of a small gear shift lever and the split ratios are obtained by simply flicking a switch on the gear change knob. Power-Take-Off. The P T.O. transmits full engine torque and has a 1:1 ratio gearing. It is air-operated from a control in the cab and can operate when the vehicle is moving as well as when the vehicle is stationary.