A Review of Trailer and Trailer Body Design
10th November 1944
Page 31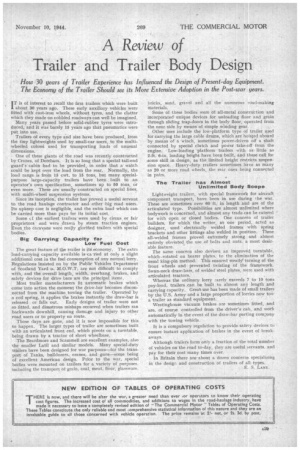 Page 31, 10th November 1944 —
A Review of Trailer and Trailer Body Design
Close
How 30 years of Trailer Experience has Influenced the Design of Present-day Equipment. The Economy of the Trailer Should see its More Extensive Adoption in the Post-war years.
Iis of interest to recall the first trailers which were built about 30 years ago. These early auxiliary vehicles were fitted with cast-iron wheels, without tyres, and the clatter which they made on cobbled roadways can well be imagined.
Many years passed before solid-rubber tyres were introduced, and it was barely 15 years ago that pneumatics were put into use.
Trailers of every type and size have been produced, from the tiny lightweights used by small-car users, to the multiwheeled colossi used for transporting loads of unusual dimensions.
One of these giants of the road was recently constructed by Cranes, of Dereham. It is so long that a special tail-end guard's cabin had to be provided, in order that a watch could be kept over the load from the rear. Normally, the load range is from 15 cwt. to 15 tons, but many specialpurpose large-capacity trailers have been built to an operator's own specification, sometimes up to 50 tons, or even more. These are usually constructed on special lines, with multi-wheel suspension systems.
Since its inception, the trailer has proved a useful servant to the road haulage contractor and other big road users. Its upkeep cost is negligible, and the extra load which can be carried more than pays for its initial cost, Some cf the earliest trailers were used by circus or fair proprietors and were drawn by steam traction engines. Even the caravans were really glorified trailers with special bodies.
Big Carrying Capacity for Low Fuel Cost The great feature of the trailer is its economy. The extra load-carrying capacity available is ca Tied at only a slight additional cost in the fuel consumption of any normal lorry. Regulations insisted on by the Public Vehicles Department of Scotland Yard o. M.O.W.T1 are not difficult to comply with, and the overall length, width, overhang, brakes, and safety devices for draw bars are the principal item!, Most trailer manufacturers fit automatic brakes which come into action the moment the draw-bar becomes disconnected from the machine towing the trailer. Operated by a coil spring, it applies the brakes instantly the draw-bar is released or falls out. Early designs of trailer were not so fitted, and disastrous mishaps occurred when trailers ran backwards downhill, causing datmge and injury to other road users or to property en route.
Those days are gone, and it is now impossible for this to happen. The larger types of trailer are sometimes built with an articulated front end, which pivots on a turntable. being drawn by a tractor of short wheelbase,
The Beardmore and Scammell are excellent examples, also the smaller Lath and similar models. Many special-duty trailers have been designed for war purposes—for the transport of Tanks, bulldozers, cranes, and guns—some being of excellent American design. Prior to the war, special bodies were mounted on trailers for a variety of purposes. including the transport of grain, coal, meat, flour, glassware. bricks, Kind, gravel and all the numerous road-making materials.
Some of these bodies were of all-metal construction and incorporated unique devices for unloading flour and grain through sliding trap-doors in the body floor, operated from the near side by means of simple winding gear.
Other uses include the low-platform type of trailer used for carrying the large cable drums, which are hoisted aboard by means of a winch, sometimes power-driven off a shaft connected by special clutch and power take-off from the engine. Low-loading platform trailers with as little as 2-ft. 8-in, loading height have been built, and these call for some skill in design, as the limited height restricts suspension space. Heavy-duty trailers sometimes have as many as 20 or more road wheels, the rear ones being connected in pairs.
The Trailer has Almost Unlimited Body Scope Lightweight trailers, with special framework for aircraft component transport, have been in use during she war. These are sometimes over 60 ft. in length and are of the articulated type. Possibilities are almost unlimited where bodywork is concerned, and almost any trade can be catered for with open or closed bodies. One concern of trailer builders, for which the writer, at one period, acted as designer, used electrically welded frames with spring brackets and other "fittings also welded in position. These all-welded frames proved extremely strong and almost entirely obviated the use of bolts and nuts, a most desirable feature.
The same concern also devised an improved turntable, which -rotated on bearer plates, to the elimination of the usual king-pin method. This ensured steadyf' turning of the front wheels and prevented twisting of the framework. Swan-neck draw-bars, of welded steel plates, were used with articulated tractors.
Whereas the ordinary lorry :arely exceeds 7 to 10 tons pay-load, trailers can be built to almost any length and carrying capacity. Great use has been made of small trailers by the U.S. Army and a large proportion of lorries now tow a trailer as standard equipment.
Westinghouse vacuum brakes are sometimes fitted, and are, of cour,e controlled from the driver's cab, and work automatically in the event of the draw-bar parting company with the towing vehicle.
It is a compulsory regulation to provide safety devices to ensure instant application of brakes in the event of breakaways.
Although trailers form only a fraction of the total number of vehicles on the road to-day, they are useful servants, and pay for their cost many times over.
In Britain there areabout a dozen concerns specializing in the design and construction of trailers of all types.
E. S. LANE.