"Heavies" Arrange Their Representation Own
10th November 1944
Page 25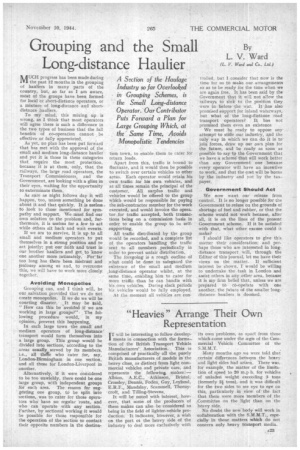 Page 25, 10th November 1944 —
"Heavies" Arrange Their Representation Own
Close
'Twill be interesting to follow developments in connection with the forma-. -tion of the British Transport Vehicle Manufacturers' Association. This is comprised of practically all the purely British manufacturers of models in the heavy class, as distinct from light commercial vehicles and private cars, and represents the following, makes:— Albion, A.E.C., -Atkinson, Bristol, Crossley; Dennis, Fader], Guy, Leyland, E.R.F., Maudslay, Scammell, Thorny
• croft, and Tilling-Stevens.
It will be mated with interest, however, that some of the producers of these makes can al-so be considered as being in the field of lighter-vehicle production, It indicates, however, a wish on the part ot the heavy side of the industry to deal more exclusively with
its own problems, as apart from those which come under the wgis of the Commercial Vehicle Committee of the S.M.M.T.
Many months ago we were told that certain differences between the heavy and light sides had arisen. There was, for example, the matter of the limitation of speed to 20 m.p h. for vehicles of unladen weight exceeding 3 tons (formerly 24 tons), and it was difficult for the two sides to see eye to aye on this, particularly in view of the fact that there were more members of the "Committee on the light than on the heavy side.
No doubt the new body will work in collaboration with the S.M.M.T., especially in those matters which do not concern only heavy transport media.