ELECTRIC HEATER FOR ENGINE STARTING
10th November 1944
Page 22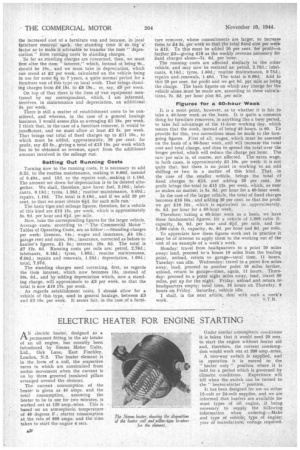 Page 22, 10th November 1944 —
ELECTRIC HEATER FOR ENGINE STARTING
Close
N electric heater, designed as a permanent fitting in the air intake of an oil engine, has recently been introduced by Simms Motor Units, Ltd., Oak Lane, East Finchley, London, N.2. The heater element is . in the form of a coil, the respective turns in which are constrained from undue movement when the current is on by three grooved insulated pillars arranged around the element_ The current consumption of the beater is given as 40 amps. and the total consumption, assuming the heater to be in use for two minutes, is worked out at 120 amp.-mins. This is based on an atmospheric temperature of 40 degrees F , starter consumption at the rate of 600 amps. and the time taken to start the engine 4 secs. Under similar atmospheric conditions it is taken that it would need 20 sees. to start the engine without heater aid and, therefore, the current consumption would work out at 200 amp.-mins.
A two-way switch is supplied, and in operation it is moved to the " heater only " position where it is held for a period which is governed by climatic conditions. Experience will tell when the switch can be turned to the " heater-starter " position.
It has been designed for use on either 12-volt or 24-volt supplies, and we are informed that heafers are available for most types of oil engine, it being necessary to supply the following information when ordering:-Make and type of vehicle; type of engine; year of manufacture; voltage required.