New 41--tormer at Swedish Exhibition
10th November 1944
Page 20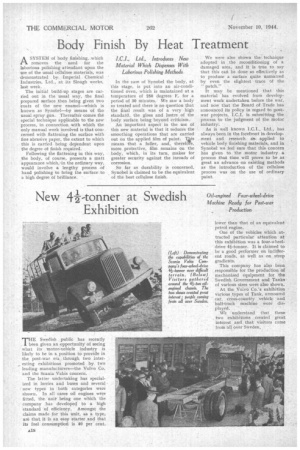 Page 20, 10th November 1944 —
New 41--tormer at Swedish Exhibition
Close
THE Swedish public has recently . been given an opportunity of seeing what its motor-vehicle industry is likely to be in a position to provide in the post-war era through two inter_ eating exhibitions promoted by two leading manufacturers—the Volvo Co. and the Scania Vabis concern.
The latter undertaking has specialized in lorries and buses and several new types in both categories were shown. In all 'cases oil engines were fitted, the unit being one which the company has developed to a high standard of efficiency. Amongst the claims made for this unit, as a type, are that it is an easy starter and that its fuel consumption is 40 per cent alti lower than that of an equivalent petrol engine.
One of the vehicles which attracted particular attention at this exhibition was a four-wheeldrive 4+-tortner. It is claimed to be a good performer on indifferent roads, as well as on steep gradients.
This company has also been responsible for the production of mechanized equipment for the Swedish Government and Tanks of various sizes were also shown.
At the Volvo Co.'s exhibition various types of Tank, armoured car, cross-country vehicle and half-track machine were displayed.
We understand that these two exhibitions created great interest and that visitors came from all over Sweden,