Body Finish By Heat Treatment
10th November 1944
Page 20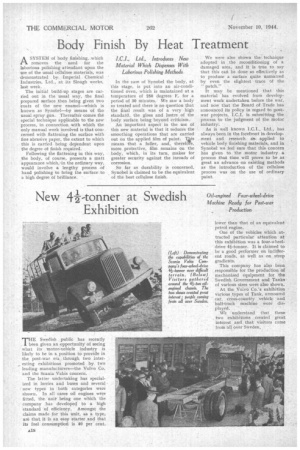 Page 20, 10th November 1944 —
Body Finish By Heat Treatment
Close
Ltd" Introduces New Material Which Dispenses With Laborious Polishing Methods
ASYSTEM of body finishing, which removes the need for the laborious polishing attendant upon the use of the usual cellulose materials, was demonstrated by Imperial . Chemical Industries, Ltd., at its Slough works, last week.
The initial build-up stages are carried out in the usual way, the final prepared surface then being given two Coats of the new enamel—which is known as Synobel—by means of the usual .spray gun. Thereafter comes the special technique applicable to the new process, in connection with which the only manual work involved is that concerned with flattening the surface with fine abrasive paper, the extent to which this is carried being dependent upon the degree of finish required.
Following the flattening in this way, the body, of course, presents a matt appearance which,Nin the ordi,nary way, would involve a lengthy process of hand polishing to bring the surface to a high degree of brilliance. In the case of Synobel the body, at this stage, is put into an air-conditioned oven, which is maintained at a temperature of 250 degrees E. for a period of 30 minutes. We saw a body so treated and there is no question that the final result was of a very high standard, the gloss and lustre of the body surface being beyond criticism.
An important aspect in the use of this new material is that it reduces the smoothing operations that are carried out on the applied film of paint, Tilais means that a fuller, and, therefffe, mOre protective, film remains on the body, which, in its turn, makes for greater security against the inroads of corrosion.
So far as durability is concerned. Synobel is claimed to be the equivalent of the best cellulose finish, We were also shown the technique adopted in the reconditioning of a damaged area, and it is true to say that this can be done so effectively as to produce a surface quite unmarred by even the slightest trace of the patch."
It may be mentioned that this material has evolved from development work undertaken before the war, and now that the Board of Trade has announced its policy in regard to postwar projects, I.C.I. is submitting the process to the judgment of the motor industry.
As is well known IC.!., Ltd., has always been in the forefront in development and research asapplied to vehicle body finishing materials, and in Synobel we feel sure that this concern has given to the motor industry a process that time will prove to be as great an advance on existing methods as the introduction of the cellulose process was on the use of ordinary paint.