Problem of Refuse Disposal Of New Housing Estates
10th November 1944
Page 18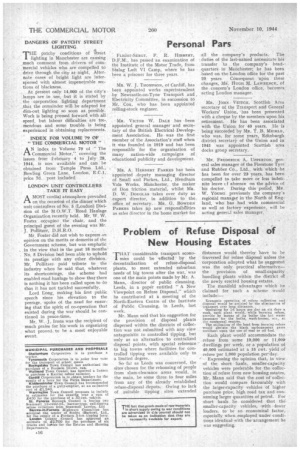 Page 18, 10th November 1944 —
Problem of Refuse Disposal Of New Housing Estates
Close
THAT considerable transport econo mies could be 'effected • by the decentralization of refuse-disposal plants, to meet extended suburban needs of big towns after the war, was one of the main points made by Mr. A. Mann, director of public cleansing, Leeds, in a paper entitled " A New Viewpoint on Refuse Disposal," which he contributed at a meeting of the North-Eastern Centre of the Institute of Public Cleansing, in Leeds, last week, Mr. Mann said that his suggestion for the provision of disposal plants dispersed within the districts of collection was not submitted with any view antagonistic to controlled tipping, but only as an alternative to centralized disposal points, with special reference to big towns where facilities for controlled tipping were available only to a limited degree.
So far as Leeds was concerned, the sites chosen for the rehousing of people from slum-clearance areas would, in the main, be some three to four miles from any of the already established refuse-disposal depots. Owing to lack of suitable tipping sites extended distances would thereby 'have to be traversed for refuse disposal unless the corporation adopted what he suggested was the only practical alternative— the provision of small-capacity handling plants within the district of the newly erected housing estates.
The manifold advantages which he claimed for such a scheme •would include:— Economic operatiou. of refuse collection and disposal would be ass.sted by the elimination of
transport over long distances. . Operating for 16 hours per day on six days a week, each plant would, while burning refuse, provide by means of its boiler the hot water necessary for the baths, washhouses, etc., at On communal centres.
The utilization of the heat from burning refutes would obviate. the black carbonaceous gases resultant upon the use of coal or oil fueL Each plant would accommodate the • refuse from some 10,000 or 11,000 dwellings per week, or a population -of 40,000 estimated at a 15 cwt. yield of refuse per 1,000 population perday. ' Expressing the opinion that, in view -of the short hauls, smaller-capacity vehicles were preferable for the collection of refuse from new housing estates, Mr.. Mann said that the cost of' collection would compare favourably with the larger-capacity vehicles of higher purchase price, high road tax and consuming larger quantities of petrol. For short hauls he considered that the smaller-capacity vehicles, with •fewer loaders, to be an economical factor, especially when employed under conditions identical with the arrangement he was suggesting.