Personal Pars
10th November 1944
Page 18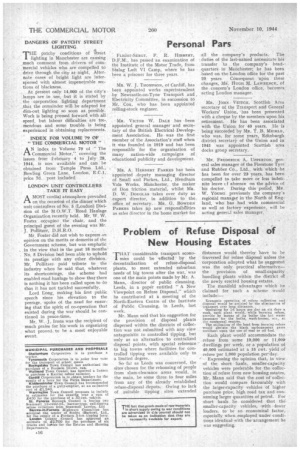 Page 18, 10th November 1944 —
Personal Pars
Close
Keywords :
FLIdflT-SERGT. P. R. Hmairar, has passed an examination of the Institute of the Motor Trade, froni Stalag Luft VI Camp, where he has been a prisoner for three years.
MR. W. J. THomesori, of Cardiff, has been appointed works superintendent by Newcastle-on-Tyne Transport and Electricity Committee, in succession to Mr. Cox, who has been appointed rolling-stock engineer.
MR. VICTOR W. DALE has been appointed general manager and secretary of the British Electrical Development Association. He was the first member of the Association's staff when it Was founded in 1919 and has been responsible for the organization of many nation-wide campaigns of educational publicity and development.
MR. A. HERBERT PARKES has been appointed deputy managing director of Small and Parkes, Ltd., Hendham Vale Works. Manchester, the maker of Don friction material, whilst Me. D. W. DOUGLAS takes over duty as export director, in addition to the office of secretary. MR. G. BOWDEN PARKES takes up new responsibilities as sales director in the home market for all the company's products. The -.duties of the last-named necessitate his transfer to the company's headquarters in Manchester; he has been bated on the London office for the past . 20 years Consequent upon these changes, Mi. HUGH LAWRENCE, of the concern's London office, becomes acting London manager.
MR, JOHN VEITCH, Scottish Area secretary of the Transport and General Workers' Union, has been presented with a cheque by the members upon his retirement. He has been associated with the Union for 4() years. lie is being succeeded by MR. T. B. MEIKLE, who was, for some years, Edinburgh district secretary of the Union and in 1941 was appointed Scottish area docks group secretary.
MR. FREDERICK A. UPPERTON, general sales manager of the Firestone Tyre and Rubber Co., Ltd., with which he has been for over 23 years, has been compelled to take more or less indefinite leave f absence on the advice of his doctor. During this period, MR W. Yornvd. previously the company's regional manager in the North of England, who has had wide commercial as well as factory experience, will be acting geneml sales manager.