Rapid Progress by Haulage Groups
10th November 1944
Page 16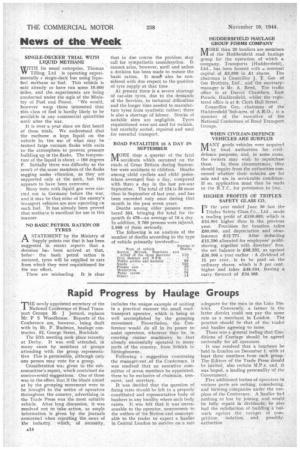 Page 16, 10th November 1944 —
Rapid Progress by Haulage Groups
Close
Keywords :
T-LE newly appointed secretary of the National Conference of Road Trans port Groups Mn jerrard, replaces Mr. P S Woodhouse. Reports of the Conference are, howevei, being dealt with by Mr. F. Rudman, haulage contractor, 52, George Street, Rochdale. The fifth meeting took place recently at Derby. It was well attended, in many cases by members of groups attending with the group representative This is permissible, although only one person may vote for a group. Consideration was given to the subcommittee's report, which contained six controversial suggestions. One of these was to the effect that if the ideals aimed at by the grouping movement were to be brought to the notice of operators throughout the country, advertising.in the Trade Press was the most suitable vehicle. After long discussion, it was resolved not to take action, as ample information is given by the journals concerned when reporting the news of the industry, which, of necessity, includes the unique example of uniting in a practical manner the small roadtransport operator, which is being so well accomplished by the grouping movement. Nevertheless, the Conference would do all in its power to assist operators, wherever they be, in creating similar machinery to that already successfully operated in many parts of the country, from Selkirk to Sittingbourne. Following a suggestion concerning the managereent ,of the Conference, it was resolved that an executive committee of seven members be appointed. these to be exclusive of chairman, treasurer, and secretary. It was decided that the question of fixing rates should be left to a properly
• constituted and representative body of hauliers in any locality where such body exists. It was felt that it was unreasonable to the operator, uneconomic to the welfare of the Nation and unacceptable to the trader to expect a haulier in Central London to survive on a rate
edeqnate for the man in the Lake Dis trict. Conversely, a farmer in the Tatter district could not pay the same rate as a merchant in London. The practice should he that of the trader and haulier agreeing to rates. There was a general feeling that Conditions of Carriage should be agreed nationally for all operators. It was resolved that a luncheon be held in London on December 1, with at least three members from each group. The Editors of the Trade Press should he invited, also certain M.P.s, and, it was hoped, a leading personality of the .Government.
Five additional bodies of operators in various parts are seeking, considering, and forming companies under the auspices of the Conference. A haulier had nothing to lose by joining, and would be fully repaid in dividends; he also had the satisfaction of building a bulwark against the ravages of competition, isolation, and, possibly, extinction