One Hears
10th November 1944
Page 15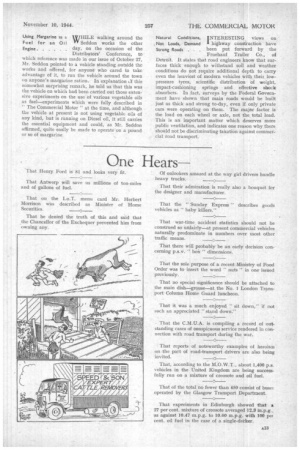 Page 15, 10th November 1944 —
One Hears
Close
Keywords :
That Henry Ford is 81 and looks very fit.
That Antwerp will save us millions of ton-miles and of gallons of fuel.
That on the Lo.T.. menu card Mr. Herbert Morrison was described as Minister of Home Securities.
That he denied the truth of this and said that the Chancellor of the Exchequer prevented him from owning any. Of onlookers amazed at the way girl drivers handle heavy trucks. , 0 That their admiration is really also a bouquet for the designer and manufacturer.
That the "Sunday Express" describes goods vehicles as " baby killers."
That war-time, accident statistics should not be construed so unfairly—at present commercial vehicles naturally predominate in numbers over most other traffic means.
That there will probably be an early decision concerning p.s.v. " box " dimensions.
That the sole purpose of a recent Ministry of Food Order was to insert the word " nuts " in one issued previously.
That no special significance should be attached to the main dish—grouse—at the No. 1 London Transport Column Home Guard luncheon.
That it was a much enioyed "sit down," if not such an appreciated "stand down."
• That the C.M.U.A. is compiling a record of outstanding cases of conspicuous service rendered in connection with road transport during the war.
That reports of noteworthy examples of heroism on the part of road-transport drivers are also being invited. , That, according to the M.O.W.T., about 1,400 p.s. vehicles in the United Kingdom are being successfully run on a mixture of creosote and oil fuel.
That of the total no fewer than 450 consist of buseE operated by the Glasgow Transport Department.
That experiments in Edinburgh showed that a 27 per cent. mixture of creosote averaged 12.3 m.p.g., as against 10.47 m.p.g. to 10.60 m.p.g. with 100 pet cent. oil fuel in the case of a single-decker.