Improving the Breed
10th November 1944
Page 13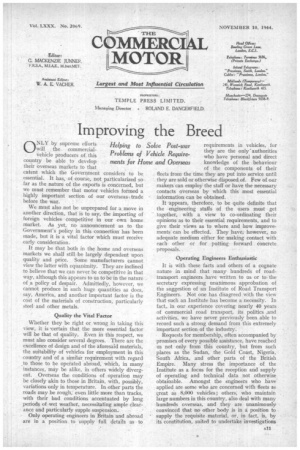 Page 14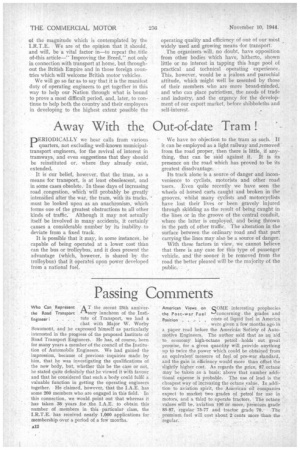 Page 13, 10th November 1944 —
Improving the Breed
Close
ONLY by supreme efforts will the commercialvehicle producers of this country be able to develop their Overseas markets to that extent which the Government considers to be essential. It has, of course, not particularized so far as the nature of the exports is concerned, but we must remember that motor vehicles formed a highly important section of our overseasi trade before the war.
We must also not be unprepared for a move in another direction, that is to say, the importing of foreign vehicles competitive in our own home market. As yet, no announcement as to the Government's policy in this connection has been made, but it is a vital factor which must receive early consideration.
It may be that both in the home and overseas markets we shall still be largely dependent upon quality and price. Some manufacturers cannot view the latter with equanimity. They are inclined to believe that we can never be competitive in that way, although this appears to us to be in the nature of a policy of despair. Admittedly, however, we cannot produce in such huge quantities as does, say, America, and another important factor is the cost of the materials of construction, particularly steel and other metals.
Quality the Vital Factor Whether they be right or wrong in taking this view, it is Tertain that the more essential factor will be that of quality. Even in this respect, we must also consider several degrees. There are the excellence of design and of the aforesaid materials, the suitability of vehicles for employment in this country and of a similar requirement with regard ,to those to be operated abroad, which, in many instances, may be alike, in others widely divergent. Overseas the conditions of operation may be closely akin to those in Britain, with, possibly, variations only in temperature. In other parts the roads may be rough, even little more than tracks, with their bad conditions accentuated by long periods of wet weather, necessitating ample clearance and particularly supple suspension..
Only operating engineers in Britain and abroad are in a position to supply full details as to requirements in vehicles, for they are the only authorities who have personal and direct knowledge of the behaviour of the components of their fleets from the time they are put into service until they are sold or otherwise disposed of. Few of our makers can employ the staff or have the necessary contacts overseas by which this most essential information can be obtained.
It -appears, therefore, to be quite definite that the engineering staffs of the users must get together, with a view to co-ordinating their opinions as to their essential requirements, and to give their views as to where and how improvements can be effected. They have, however, no adequate medium either for making contact with each other or for putting forward concrete proposals.
Operating Engineers Enthusiastic It is with these facts and others of a cognate nature in mind that many hundreds of roadtransport engineers have written to us or tothe secretary expressing unanimous approbation of the suggestion of an Institute of Road Transport Engineers. Not one has disagreed with the view that such an Institute has become a necessity. In fact,, in our experience covering nearly 40 years of commercial road transport, its politics _and activities, we have never previously been able to record such a strong demand from this extremely important section of the industry. Requests for membership, often accompanied by promises of every possible assistance, have reached us not only from this country, but from such places as the Sudan, the Gold Coast, Nigeria, South Africa, and other parts of the British Empire. Many stress the importance of the Institute as a focus for the reception and supply of operating and technical data not otherwise obtainable. Amongst the engineers who have applied are some who are concerned with fleets as great as 8,000 vehicles; others, who maintain large numbers in this country, also deal with many hundreds overseas, and they are unanimously convinced that no other body is in a position to supply the requisite material, or, in fact, is, by its constitution, suited to undertake investigations of the magnitude which is contemplated by the I.R.T.E. We are of the opinion that it should, and will, be a vital factor in—to repeat the title of-this article—" Improving the Breed," not only in connection with transport at home, but throughout the British Empire and in those foreign countries which will welcome British motor vehicles.
We will go so far as to say that it is the manifest duty of operating engineers to get together in this way to help our Nation through what is bound to prove a most difficult period, and, later, to continue to help both the country and their employers in developing to the highest extent possible the operating quality and efficiency Of one of our most widely used and growing means -for transport. . The organizers will, no doubt, have opposition from other bodies which have, hitherto, shown little or no interest in tapping this huge pool of practical and technical operating experience. This, however, would be a jealous and parochial attitude, which might well be resented by those of their members who are more broad-minded, and who can place patriotism, the needs of trade and industry, and the urgency for the development of our export market, before shibboleths and self-interest.