Away With the Out-of-date Tram !
10th November 1944
Page 14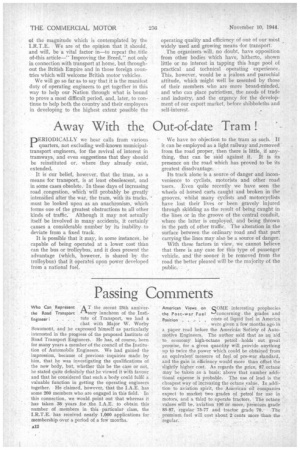 Page 14, 10th November 1944 —
Away With the Out-of-date Tram !
Close
DERIODICALLY we hear calls from various .11 quarters, not excluding well-known municipaltransport engineers, for the revival of interest in tramways, and even suggestions that they should be reinstituted or, where they already exist, extended.
It is our belief, however, that the tram, as a means for transport, is at least obsolescent, and in some cases obsolete. In these days of increasing road congestion, whichwill probably be greatly intensified after the war, the tram, with its tracks, must be looked upon as an anachronism, which forms one of the greatest obstructions to all other kinds of traffic. Although it may not actually itself be involved in many accidents, it certainly causes a considerable number by its inability to deviate from a fixed track.
It is possible that it may, in some instances, be capable of being operated at a lower cost than can the bus or trolleybus, and it does present the advantage (which, however, is shared by the trolleybus) that it operate g upon power developed from a national fuel. We have no objection to the tram as such. If it can be employed as a light railway and .removed from the road proper, then there is little, if anything, that can be said against it. It is its presence on the road which has proved to be its greatest disadvantage.
Its track alone is a source of danger and inconvenience to cyclists, motorists and other road -users. Even quite recently we have seen the wheels of horsed carts caught and broken in the " grooves, whilst many cyclists and motorcyclists have lost their lives or been gravely injured through skidding as the result of being caught in ,the lines or in the groove of the central conduit, 'where the latter is employed, and being thrown in the path of other traffic. The alteration in the surface between the ordinary road and that part carrying the lines may also be a source of danger.
With these factors in view, we cannot believe that there is any case for this type of passenger vehicle, and' the sooner it be removed from the road the better pleased will be the majority of the public. .