ONE HEARS
10th May 1921
Page 3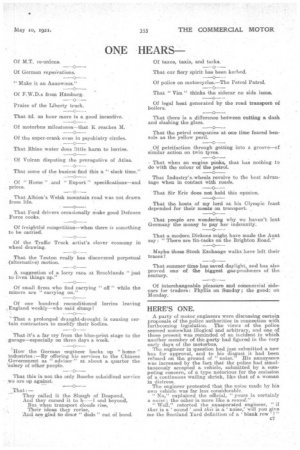 Page 3, 10th May 1921 —
ONE HEARS
Close
Of M.T. re-unions Of German rep rations.
"Make it an Aauowaus."
Of F.W.D.s from Marburg.
Praise of the Liberty truck.
That 2d. an hour more is a good incentive.
Of motorbus milestones—that K reaches M.
Of the super-crank even in psychiatry circles. That Rhine water does little harm to lorries.
Of Vulcan disputing the prerogative of Atlas.
That some of the busiest find this a "slack time."
Of " Home". and " Export " specifications—and prices.
That Albion's Welsh mountain road was not drawn from life.
That Ford drivers occasionally make good Defence Force cooks.
Of freightful competition—when there is something to be carried.
Of the Traffic Truck artist's clever economy in wheel -drawing.
That the Teuton really has discovered perpetual (alternative) motion.
A suggestion of a lorry race at Broc,klands "just to liven things up."
Of small firms who find carrying " off" While the miners are "carrying on."
Of one hundred reconditioned lorries leaving ;England weekly—who said slump?
That a prolonged draught-drought it causing cer' tain contractors to modify their bodies.
• 0 That it's a far cry from the blue-print stage tothe garage—especially on three days a week.
'How the German engineer backs up " home " industries :—By offering his services to the Chinese Government as " adviSer " at about a, quarter the 'salary of other people.
That this is not the only Bosche subsidized service we are up against.
That :— They called it the, Slough of Despond, And they cursed it to h and beyond, But, when transport clouds rise, Their ideas they revise, And are glad to draw " duds " out of bond. Of taxes, taxis, and tacks, That our fiery spirit has been kerbed.
Of police on motorcycles.—• The Petrol Patrol. That " Vim " thinks the sidecar no side issue.
Of legal heat generated by the road transport of boilers.
That there is a difference between cutting a dash and slashing the glass.
That the petrol c,ompanies at one time feared benzoic as the yellow peril.
. Of petrifaction through getting into a groove—of similar action on twin tyre% That when an engine pinks, that has nothing to do with the colour of the petrol.
That Industry's:wheels revolve -to the best advantage when in contact with roads That Sir Erie does not h• old this opinion.
That the hosts of my lord at his Olympic feast depended for their meats on transport. , That people are wondering why we haven't lent Germany the money to pay her indemnity.
That a modern Dickens might have made. the Aunt say : There are tin-tacks on the Brighton Road."
Maybe those Stock Exchange walks have left their traces?
That summer time has saved daylight, and has also proved one of the biggest gas-producers of the century.
Of interchangeable pleasure and commercial sidecars for traders: Phyllis on Sunday; the good: on Monday.