HERE'S ONE.
10th May 1921
Page 3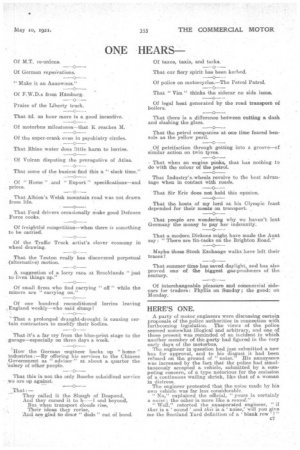 Page 3, 10th May 1921 —
HERE'S ONE.
Close
A party of motor engineers were discussing certain proposals of the police authorities in connection with forthcoming legislation. The views of the police seemed somewhat illogical and arbitrary, and one of those present was reminded of an incident in which another member of the party had figured in the very early days of the motorbus. The engineer in question had jtist submitted a new bus for approval, and to his disgust it had been refused on the ground of "noise." His annoyance was increased by the fact that the police had simultaneously accepted a vehicle, submitted by 'a cum• peting concern, of a type notorious for the emission of a continuous wailing shriek, like that of awoman in di stress.
The engineer protested that the noise made by his own vehicle was far less considerable.
" No," explained the official, "yours is certainly a -noise ; the other is more like a sound." " Well," retorted the exasperated engineer, " if that is a sound' and this is a noise,' will you give me the Scotland Yard definition of a blank row '1"