REPAIR SHOP ORGANIZATION.
10th May 1921
Page 16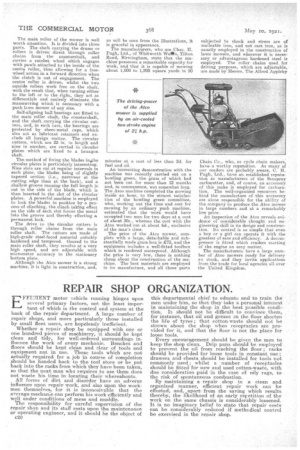 Page 16, 10th May 1921 —
REPAIR SHOP ORGANIZATION.
Close
EFFICIENT motor vehicle running hinges upon several primary factors, not the least important of which is the control and system at the back of the repair department. A large number of repair shops, and more particularly those installed by small fleet users, are hopelessly inefficient.
Whether a repair shop be equipped with one or one hundred pieces of machinery, it should be kept clean and tidy, for well-ordered surroundings influence the work of every mechanic. Benches, and floors should be kept clean and clear of tools and equipment not in use. Those tools which are not actually required for a job in course of completion should be handed back to the tool store or be put back into the racks from which they have been taken, so that the next man who requires to use them does not waste his time inlocating their whereabouts. All forms of dirt and disorder have an adverse influence upon repair work, and also upon the workmen themselves, for it is inconceivable that the average mechanic can perform his work efficiently arid well under conditions of mess and muddle. The responsibility for careful supervision of the repair shop and its staff rests upon the maintenance or operating engineer, and it should he the object. of c20 thiS departmental chief to educate and to train the men under him, so that they take a. personal interest in maintaining the shop in the best possible condition.. It should not be difficult to. convince them, for instance, that oil and grease on the floor shorten the life of tyres; that cotton-waste should not be strewn about the shop when receptacles are provided for it, and that the floor is not the place for loose tools.
Every encouragement should be given the men to keep the shop clean.. Drip pans. should be employed to prevent the oil from reaching the floor ; racks should be provided for loose tools in constant use ; drawers and cheats should be' installed for tools not commonly used ; whilst a number of receptacles should be fitted for new and used cotton-waste, with due consideration paid in the case of oily rags, to the risk of spontaneous combustion. By maintaining a repair shop in a clean and organized manner, efficient repair work can be effected, and, apartfrom the saving which results thereby, the Likelihood of an early reeetition of the work on the same chassis is considerably lessened. It is no imaginary belief to state that repair costs can be considerably reduced if methodical control be exercised in the repair shop.