BETTER TRANSPORT ELIMINATES BREAKAGE.
10th May 1921
Page 10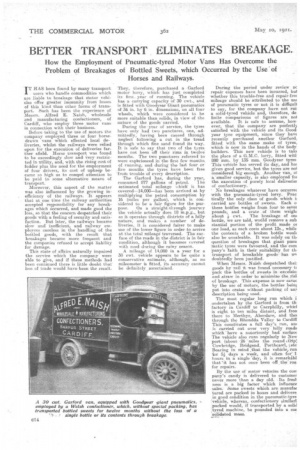 Page 10, 10th May 1921 —
BETTER TRANSPORT ELIMINATES BREAKAGE.
Close
How the Employment of Pneumatic-tyred Motor Vans Has Overcome the Problem of Breakages of Bottled Sweets, which Occurred by the Use of Horses and Railways.
TT HAS been found by many transport 1. users who handle commodities which arc liable to breakage that Motor vehicles offer greater immunity from losses of this kind than other forms of transport. Such has been the experience of Messrs. Alfred E. Naish, wholesale and manufacturing confectioners, of Cardiff, who employ three motor vans in connection with their business.
Before taking to the use of motors the company employed three or four horsedrawn vans which effected local deliveries, whilst the railways were relied upon for the execution of deliveries farther afield. Horse transport was found to be exceedingly slow and very restricted in utility, and, with the rising cost of fodder plus the need for the employment of four drivers, its cost of upkeep became so high as to compel attention to be paid to some alternative means of transport. Moreover, this aspect of the matter was also influenced by the growing inefficiency of the railways. It appears that at one time the railway authorities accepted responsibility for any breakages which occurred, and made good the loss, so that the concern despatched their goods with a feeling of security and satisfaction. But later, the railways became slow and inefficient, and railway employees careless in the handling of the bottled goods, with the result that breakages became more frequent and the companies refused to accept liability for damage. This state of affairs natunally impaired the service which the company were able to give, and if these methods had been continued there is little doubt that loss of trade would have been the result. They, therefore, purchased a : Garford motor lorry, which has just completed its first. year of running. The vehicle has a carrying capacity of 30 cwt., and is fitted with Goodyear Giant pneumatics of 36 in. by 6 in. aimensions on all four wheels, which were considered to be more suitable than solids, in view of the nature of the goods carried.
During the year of service, the tyres have only had two punctures, one, admittedly, having been caused through neglect following a cut in the tread through which fine sand found its way. It is safe to say that two of the tyres have not been off their rims in twelve months. The two punctures referred' to were exptrienced in the first few months. of running, and during the last four or five months the tyres have been free 'frail trouble of every description.
The Garford bas, during the year, consumed 877 gallons of petrol. The estimated total mileage .shicli it has covered-14,000---has been arrived at by multiplying the petrol consumption by 16 (miles per gallon), which is considered to be a fair figure for the pur pose. On a straight-through jourocy the vehicle actually does 18 m.p.g., but as it operates through districts of a hilly nature, and makes a number of deliveries, it is considered fairer to make use of the lower figure in order to arrive at the total nailea0 traversed. The surface of the roads in the district is in fair condition although it becomes covered with mud during the rainy season.
A mileage of 14,000 in a, year for a 30 cwt. vehicle appears to be quite a conservative estimate, although, as no mileometer is fitted, its accuracy cannot be definitely ascertained. During the period under review tic repair expenses have been incurred, bul whether this trouble-free and repair-frer mileage should be attributed to the uss of pneumatic tyres or not it is difficull to say, for the company have not rur a solid-tyred vehicle and, therefore, de. finite comparisons of figures are nol available. It is safe to assuine, how: ever, that the company are perfectly satisfied with the vehicle and its Good year tyre equipment, since they have recently purchased another Garford fitted with the same make of tyres, which is now in the hands of the body builders. This new vehicle is to tak: the place of a G.M.C. lorry, fitted svitl 880 ram. by 135 mm. Goodyear tyres This vehicle has served its day, and ha: given good service, but the tyres are nal considered big enough. Another van, oi a smaller capacity, is alsa employed foi the execution of purely local deliveries of confectionery.
' No breakages whatever have occurrer with the pneumatic-tyred lorry. Prac tically the only class of goods which i: carried are bottles of sweets. Each o these bottles weighs from four to sever pounds, and a crate of them weight about cwt. The breakage of on' bottle, we are told, worild remove a sub stantial portion of the profit made or one load, as each costs about 12s., whils the contents of a broken bottle word: also be unsaleable. It was solely on tit: question of breakages that giant pneu matic tyres were favoured, and the corn pa.ny's faith in their suitability for th: transport of breakable goods has on douhEedly been justified.
When Messrs. Naiah. despatched they goods by rail it was found necessary pack the bottles of sweets in exe
and straw in order to minimize the risl of breakage. This expense is now save( by the use of motors, the bottles beim put into crates without packing of ans description being used.
The most regular long run which i undertaken by the Garford is from th: factory in Cardiff to Caerphilly, whicl is eight to ten miles distant, and fron there to Merthyr, Aberdare, and ther through the Rhondda Valley to Cardiff This constitutes a full day's run, am is carried out over very hilly roads which have a notoriously bad surface The vehicle also runs regularly to New post (about • 26 'miles the round sfrip) Cowbridge, Bridgend. Porthcawl, ;etc Bearing in mind that the vehicle run fin' 4 days a week, and often (or. hours in a single "day, it is remarkidol that 'it has not once been off the roe: for repairs.
By the use ot motor vehicles the cow pany's candy is delivered to customer never more than a day old. • Its fresh ness is a big factor which influence sales. Some sweets which are manufas turd are packed in boxes and delivere in good condition in the eneuntatic-tyre vehicle, whereas, confectionery similar' packed would, if transported by a solii ityred. machine, be pounded into a col solidated mass.