T . HIS is the time of the year when many hauliers
10th March 1950
Page 54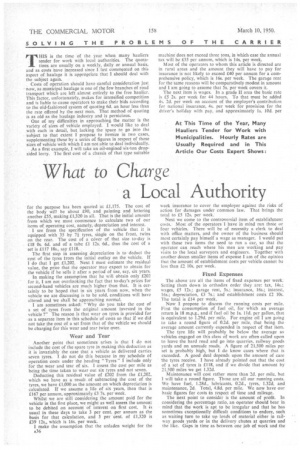 Page 54, 10th March 1950 —
T . HIS is the time of the year when many hauliers
Close
tender for work with local authorities. The quotations are usually on a weekly, daily or annual basis, and as costs have increased since I last commented on this aspect of haulage it is appropriate that 1 should deal with the subject again. Costs of operation should have careful consideration just now, as municipal haulage is one of the few branches of road transport which are left almost entirely to the free haulier. This factor, unfortunately, makes for intensified competition and is liable to cause operators to make their bids according to the old-fashioned system of quoting 6d, an hour less than the rate offered by the next man. That method of quoting is as old as the haulage industry and is pernicious.
One of my difficulties in approaching the matter is the variety of sizes of vehicle employed. I would like to deal with each in detail, but, lacking the space to go into the subject to that extent I propose to itemize in two cases, supplementing these by a series of figures in respect of those sizes of vehicle with which I am not able to deal individually.
As a first example, I will take an oil-engined six-ton dropsided lorry. The first cost of a chassis of that type suitable machine does not exceed three tons, in which case the annual tax will be £35 per annum, which is 14s. per week.
Most of the operators to whom this article is directed are in rural areas and the amount they will have to pay for insurance is not likely to exceed £40 per annum for a comprehensive policy, which is 16s. per week. The garage rent for the same reasons will be comparatively modest in amount and I am going to assume that 5s. per week covers it.
The next item is wages. In a grade II area the basic rate is £5 2s. per week for 44 hours. To that must be added 4s. 2d. per week on account of the employer's contribution for national insurance, 4s. per week for provision for the driver's holiday with pay, and approximately Is. 10d. per