U.S. Air Force Buses Work 20 Hours a Day
10th March 1950
Page 50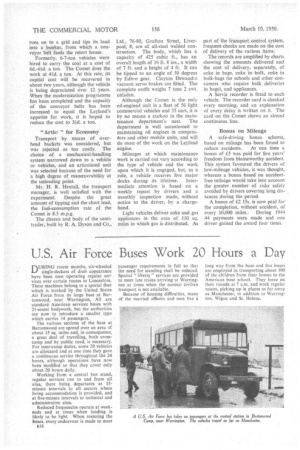 Page 50, 10th March 1950 —
U.S. Air Force Buses Work 20 Hours a Day
Close
DURING recent months, six-wheeled single-deckers of drab appearance have been seen operating regular services over certain routes in Lancashire. These machines belong to a special fleet which is worked by the United States Air Force froin its large base at Burtonwood, near Warrington. All are standard American services buses with 21-seater bodywork, but the authorities are now to introduce a smaller type which carries 14 passengers.
The various sections of the base at Burtonwood are spread over an area of about 15 sq. miles and, in consequence, a great deal of travelling, both crosscamp and by public road, is necessary. For inter-camp duties, some 20 vehicles are allocated and at one time they gave a continuous service throughout the 24 hours, although operations have now been modified so that they cover only about 20 hours daily.
Working from a central bus stand, regular services run to and from all sites, there being departures at 15minute intervals to all, sectors where living accommodation is provided, and at five-minute intervals to technical and administrative sites.
Reduced frequencies operate at weekends and at times when loading is likely to be light. When rostering the buses, every endeavour is made to meet B16 passenger requirements in full so that the need for standing shall be reduced. Special "liberty' services are provided to meet late trains arriving at Warrington at times when the normal civilian transport is not available.
Because of housing difficulties, many of the married officers and men live a long way from the base and five buses are employed in transporting about 100 of the children from their homes to the American base school. They leave on their rounds at 7 a.m. and work regular routes, picking up in places as far away as Manchester, in addition to Warrington, Wigan and St. Helens.