Clean and Swift Meat Handling
10th March 1950
Page 45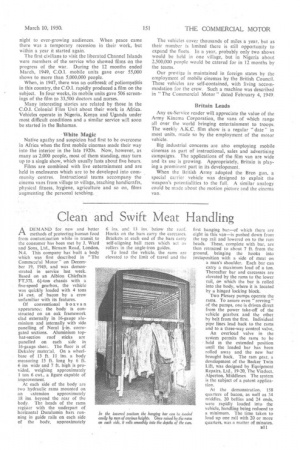 Page 45, 10th March 1950 —
Clean and Swift Meat Handling
Close
ADEMAND for new and better methods of protecting human food from contamlnation while in transit to the consumer has been met by 1. Ward and Sons, Ltd., Birnam Road, London, N.4. This company has built a body which was first described in "The Commereal Motor" on Decem ber 19, 1949, and was demonstrated in service last week. Based on an Albion Chieftain FT.37L 6i-tour chassis with a five-speed gearbox, the vehicle was quickly loaded with 4 tons 14 cwt, of bacon by a crew unfamiliar with its features.
Of conventional b ox van appearance; the body is constructed on an oak framework clad externally in 16-gauge aluminium and internally with side
panelling of Noral corrugated sections. Aluminium tophat-section roof sticks are panelled on each side in 16-gauge sheet. The floor is of Dekaloy mater:al. On a wheelbase of 13 ft. 11 ins, a body measuring 15 ft. long by 6 'ft. 6 ins wide and 7 ft. high is provided, weighing approximately 1 ton 6 cwt., a figure capable of improvement.
At each side of the body are two hydraulic rams mounted on an txtension approximately 18 ins, beyond the rear of the body. The heads of the rams register with the underpart of horizontal Duralurnin bars running in guide rails on each side of the bodv. approximately 6 ins. and 13 ins. below the roof. Hooks on the bars carry the carcasses. Brackets at each end of the bars carry self-aligning ball races which act as rollers in the angle-iron guides.
To load the vehicle, the rams are elevated to the limit of travel and the first hanging bar—of which there are eight in this van—is pushed down from the top rail and lowered on to the ram heads. These, complete with bar, are then retracted to about 7 ft. from the ground, bringing the hooks into juxtaposition with a side of meat on a man's shoulder. Each bar can carry a maximum load of a ton. Thereafter bar and carcasses are elevated by the rams to the lower rail, on which the bar is rolled into the body, where it is located by a hinged locking block.
Two Plessey pumps operate the rams. To assure even "revving" of the pumps, one is driven direct from the power take-off of the vehicle gearbox and the other by belt from the first. Individual pipe lines lead back to the rams and to a three-way control valve.
An overload valve in the system permits the rams to be held in the extended position until the loaded bar has been rolled away and the new bar brought back. The ram gear, a development of the Becker Twin Lift, was designed by Equipment Repairs, Ltd. 19-20, The Viaduct, Alperton, Middlesex. The system is the subject of a patent application.
At the demonstration, 158 quarters of bacon, as well as 34 middles, 20 bellies and 24 ends, were rapidly loaded into the vehicle, handling being reduced to a minimum. The time taken to load up one rail with 20 or more quarters, was a matter of minutes. all