3.8 TITRES PUL
10th March 1950
Page 38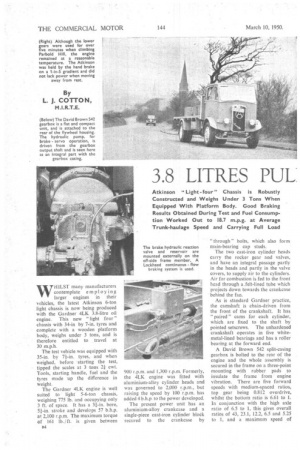 Page 39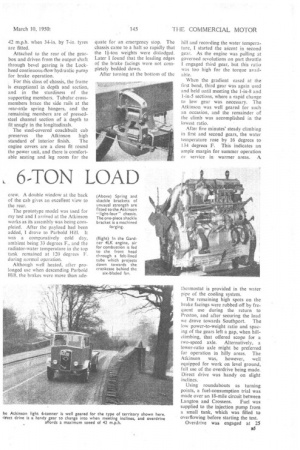 Page 40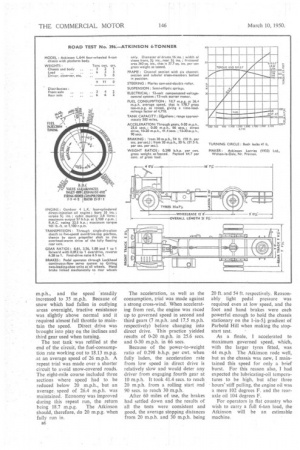 Page 38, 10th March 1950 —
3.8 TITRES PUL
Close
, 6-TON LOAD
WH1LST many manufacturers contemplate employ ing larger engines in their vehicles, the latest Atkinson 6-ton light chassis is now being produced with the Gardner 4LK 3.8-litre oil engine. This new "light four" chassis with 34-in by 7-in. tyres and complete with a wooden platform body, weighs under 3 tons, and is therefore entitled to travel at 30 m.p.h.
The test vehicle was equipped with 35-in. by 71-in. tyres, and when weighed, before starting the test, tipped the scales at 3 tons 21 cwt. Tools, starting handle, fuel and the tyres made up the difference in weight.
The Gardner 4LK engine is well suited to light 5-6-ton chassis, weighing 775 lb. and occupying only 3 ft. of space. It has a 3/-in. bore, 5}-in. stroke and develops 57 b.h.p. at 2,100 r.p.m. The maximum torque of 161 lb./ft. is given between B4 900 r.p.m. and 1,300 r.p.m. Formerly, the 4LK engine was fitted with aluminium-alloy cylinder heads and was governed to 2,000 r.p.m., but raising the speed by 100 r.p.m. has added 4 b.h.p to the power developed.
The present power unit has an aluminium-alloy crankcase and a single-piece cast-iron cylinder block secured to the crankcase by " through " bolts, which also form main-bearing cap studs.
The two cast-iron cylinder heads carry the rocker gear and valves, and have an integral passage partly in the heads and partly in the valve covers, to supply air to the cylinders. Air for combustion is fed to the front head through a.felt-lined tube which projects down towards the crankcase behind the fan.
As is standard Gardner practice, the camshaft is chain-driven from the front of the crankshaft. It has "paired" cams for each cylinder, which are fixed to the shaft by pointed setscrews. The unhardened crankshaft operates in five whitemetal-lined bearings and has a roller bearing at the forward end.
A David Brown 542 split-casing gearbox is bolted to the rear of the engine and the whole assembly is secured in the frame on a three-point mounting with rubber pads to insulate the frame from engine vibration. There are five forward speeds with medium-spaced ratios, top gear being 0.812 overdrive, whilst the bottom ratio is 6.61 to 1. In conjunction with the high axle ratio of 6.5 to 1, this gives overall ratios of 43, 23.1, 12,2, 6.5 and 5.25 to 1, and a maximum speed of crew. A double window at the back of the cab gives an excellent view to the rear.
The prototype model was Used for my test and I arrived at the Atkinson works as its assembly was being completed. After the payload had been added, I drove to Parbold Hill. It was a comparatively cold day, ambient being 33 degrees F., and the radiator-water temperature in the top tank remained at 120 degrees F. during normal operation.
Although well heated, after prolonged usc when descending Parhold Hill, the brakes were more than ade thermostat is provided in the water pipe of the cooling system.
The remaining high spots on the brake facings were rubbed off by frequent use during the return to Preston, and after securing the load we drove towards Southport. The low power-to-weight ratio and spacing of the gears left a gap, when hillclimbing, that offered scope for a two-speed axle. Alternatively, a lower-ratio axle might be preferred for operation in hilly areas. The Atkinson was, however, well equipped for work on level ground, full use of the overdrive being made. Direct drive was handy on slight inclines.
Using roundabouts as turning points, a fuel-consumption trial was made over an 18-mile circuit between Langton and Crossens. Fuel was supplied to the injection pump from a small tank, which was filled to overflowing before starting the test.
Overdrive was engaged at 25
m.p.h., and the speed steadily increased to 35 m.p.h. Because of show which had fallen in outlying areas overnight, tractive resistance was slightly above normal and it required almost full throttle to maintain the speed. Direct drive was brought into play on the inclines and third gear used when turning.
The test tank was refilled at the end of the circuit; the fuel-consumpticin rate working out to 18.13 mpg. .at an average speed of 26 m.p.h. A repeat trial was made over a shorter circuit to avoid snow-covered roads. The eight-mile course included three sections where speed had to be reduced below 20 m.p.h., but an average speed of 26.4 m.p.h. was maintained. Economy was improved during this repeat run, the return being 18.7 m.p.g. The Atkinson should, therefore, do 20 m.p.g. when fully run in.
a6 The acceleration, as well as the consumption, trial was made against a strong cross-wind. When accelerating from rest, the engine was raced up to governed speed in second and third gears (7 mph. and 17.5 m.p.h. respectively) before changing into direct drive. This practice yielded results of 0-20 m.p.h. in 25.6 secs. and 0-30 m.p.h. in 66 secs.
Because of the power-to-weight ratio of 0.298 b.h.p. per cwt. when fully laden, the acceleration rate from low speed in direct drive is relatively slow and would deter any driver from engaging fourth gear at 10 m.p.h. It took 41,4 sees. to reach 20 mph. from a rolling start and 90 secs. to reach 30 m.p.h.
After 60 miles of use, the brakes had settled down and the results of all the tests were consistent and good, the average stopping distances from 20 m.p.h. and 30 m.p.h. being
20 ft. and 54 ft. respectively. Reasonably light pedal pressure was required even at low speed, and the foot and hand brakes were each powerful enough to hold the chassis stationary on the 1-in-51 gradient of Parbold Hill when making the stopstart test.
As a finale, I accelerated to maximum governed speed, which, with the larger tyres fitted, was 44 m.p.h The Atkinson rode well, but as the chassis was new, I maintained this speed for only a brief burst. For this reason also, I had expected the lubricating-oil temperatures to be high, but after three hours' stiff pulling, the engine oil was a mere 102 degrees F. and the rearaxle oil 104 degrees F.
For operators in flat country who wish to carry a full 6-ton load, the Atkinson will be an estimable machine.