Bedford Prices Up By E20-S25
10th March 1950
Page 37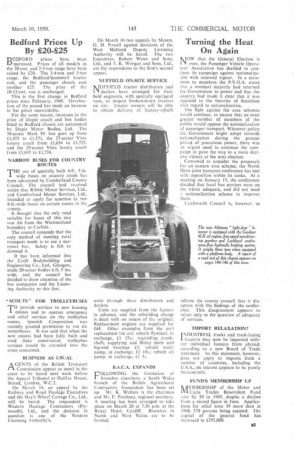 Page 37, 10th March 1950 —
Bedford Prices Up By E20-S25
Close
BEDFORD prices have been increased. Prices of all models in the 30-cwt. and 2-3-ton range have been raised by £20. The 3-4-ton and 5-ton range, the Bedford-Scamrnell tractor unit, and the passenger chassis cost another £25. The price of tho 10-12-cwt. van is unchanged.
This is the first change in Bedford prices since February, 1948. Devaluation of the pound has made an increase in list prices unavoidable.
For the same reason, increases in the price of Duple coach and bus bodies fitted to Bedford chassis are announced by Duple Motor Bodies, Ltd. The 30-seater Mark IV bus goes up from £1,475 to 11,571, the 27-seater Vista luxury conch from £1,634 to £1,725. and the 29-seater Vista luxury coach from 11,645 to £1,736.
NARROW BUSES FOR COUNTRY ROUTES
THE use of specially built 6-ft. 5-in. wide buses on criuntry roads has been advocated by Cumberland County Council. The council had received notice that Ribble Motor Services, Ltd., and Cumberland Motor Services, Ltd., intended to apply for sanction to run 8-ft.-wide buses on certain routes in the county.
It thought that the only road suitable for buses of this size was A6 from the Westmorland boundary to Carlisle.
The council contends that the only method of meeting rural transport needs is to use a narrower bus. Safety is felt to demand it.
It has been informed that the Croft Bodybuilding and Engineering Co , Ltd., Glasgow, made 20-seater bodies 6 ft. 5 ins. wide, and the council has decided to draw attention of the bus companies and the Licensing Authority to this fact.
"SCOUTS" FOR TROLLEYBUSES
T°provide services to new housing estates and to operate emergency and relief services on the trolley bus routes, Ipswich Corporation was recently granted permission to run six motorbuses. It was said that when the new estates had been fully built and road links constructed, trolleybus services Would be extended into the areas concerned.
BUSINESS AS USUAL .
AGENTS of the British Transport Commission appear as usual in the cases to be heard next week before the Appeal Tribunal at Halifax House, Strand, Condon, W.C.2.
On March 14, an appeal by the Railway and Road Haulage Executives and the Hay's Wharf Cartage Co., Ltd., Will be heard. The respondent is Western Haulage" Contractors (Plymouth), Ltd., and the decision in question is one of the Western Licensing Authority's.
On March 16 two appeals by Messrs. G. H, Powell against decisions of the West Midland Deputy Licensing Authority will be heard. The two Executives, Robert Wynn and Sons, Ltd., and T. K. Worgan and Sons, Ltd., are the respondents to the firm's second appeal.
NUFFIELD ON-SITE SERVICE NIUFFIELD tractor distributors and
11 dealers have arranged for their field engineers, with specially equipped vans, to inspect broken-down tractors on site. Tractor owners will be able to obtain delivery of factory-rebuilt
units through these distributors and dealers.
Units are supplied from the factory in advance, and the rebuilding charge is dealt with on return of the Replacement engines are supplied for 144. Other examples from the un't replacement list are: rebuilt flywheel, in exchange, £1 15s.; regrinding crankshaft, supplying and fitting main and big-end bearings £5; rebuilt water pump, in exchange, .12 10s.; rebuilt oil pump, in exchange, El 5s, B.A.C.A. EXPANDS
FOLLOWING the formation of branches elsewhere, a South Wales branch of the British Agricultural .Contractors Association has been set up, Mr. K. Walters is the chairman and Mr. F. Poultney, regional secretary. A meeting has been arranged to take place on March 20 at 7.30 p.m. at the Royal Hotel, Cardiff. Branches in North and West Wales are to be for med.