French Terminal Not Admitted
10th March 1950
Page 35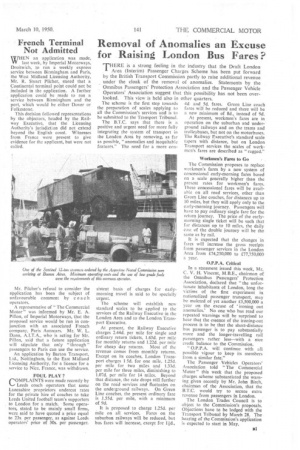 Page 35, 10th March 1950 —
French Terminal Not Admitted
Close
EN an application was made, lirlast week, by Imperial Motorways, Droitwich, to run a weekly express service between Birmingham and Paris, the West Midland Licensing Authority, Mr. R. Stuart Pitcher, stated that a Continental terminal point could not be included in the application. A further application could he made to run a service between Birmingham and the port, which would be either Dover or Folkestone.
This decision followed representations by the objectors, headed by the Railway Executive, that the Licensing Authority's jurisdiction did not extend beyond the English coast. Witnesses from France were present to give evidence for the applicant, but were not called.
Mr. Pilcher's refusal to consider the application has been the subject of unfavourable comment by coach operators.
A representative of "The Commercial Motor" was informed by Mr. E. A. Pillon, of Imperial Motorways, that the proposed service would be run in conjunction with an associated French company, Paris Autocars. Mr. W. L. Dann, A.I.T.A., who is acting for Mr. Pillon, said that a future application will stipulate that only "through" passengers to Paris can use the service.
An application by Barton Transport, Ltd., Nottingham, to the East Midland Licensing Authority, for a licence for a service to Nice, France, was withdrawn.
FOUL PLAY?
COMPLAINTS were made recently by Leeds coach operators that some Lancashire proprietors undercut rates for the private hire of coaches to take Leeds United football team's supporters to London for a match. Some operators, stated to be mainly small firms, were said to have quoted a price equal to 23s. per passenger, as against Leeds operators' price of 30s. per passenger.
sistent basis of charges for earlymorning travel is said to be specially urgent.
The scheme will establish new standard scales to be applied to the services of the Railway Executive in the London Area and to the London Transport Executive.
At present, the Railway Executive charges 2.44d. per mile for single and ordinary return tickets, I.63d. per mile for monthly returns and 1.22d. per mile for cheap day returns. Most of the revenue comes from monthly returns. Except on its coaches, London Transport charges 1.5d. for one mile, 1.25d. per mile for two miles and 1.33d. per mile for three miles, diminishing to I.07d. per mile for 14 miles. Beyond that distance, the rate drops still further on the road services and fluctuates on the underground railways. On Green Line coaches, the present ordinary fare is 1.55d, per mile, with a minimum of 9d.
It is proposed to charge 1.25d. per mile on all services. Fares on the suburban railways will be reduced, but bus fares will increase, except for lid., Workmen's Fares to Go The Commission proposes to replace workmen's fares by a new system of concessional early-morning fares based on a scale generally higher than the present rates for workmen's fares. These concessional fares will be available on all road services, other than Green Line coaches, for distances up to 10 miles, but they will apply only to the early-morning journey. Passengers will have to pay ordinary single fare for the return journey. The price of the earlymorning single ticket will be such that for distances up to 10 miles, the daily cost of the double journey will be the same as by rail.
It is expected that the changes in fares will increase the gross receipts from passenger services in the London Area from 04,250,000 to £77,750,000 a year.
0.P.P.A. Critical
In a statement issued this week, Mr, C. V. H. Vincent, M.B.E., chairman of the Omnibus Passengers' Protection Association, declared that "the unfortunate inhabitants of London, long the victims of the first experiment in nationalized passenger transport, may be mulcted of yet another 13,500,000 a year on the excuse of 'ironing out anomalies.' No one who has read our repeated warnings will be surprised to hear that the essence of the ironing-out process is to be that the short-distance bus passenger is to pay substantially more and the longer-travelling rail passengers rather less—with a nice credit balance to the Commission.
" 0.P.P.A. will continue with all possible vigour to keep its members from a similar fate."
The Passenger Vehicles Operators' Association told "The Commercial Motor" this week that the proposed charges scheme substantiated the warning given recently by Mr. John Birch, chairman of the Association, that the B.T.C. would try to secure extra revenue from passengers in London. .
The London Trades Council is to object to the Commission's proposals. Objections have to be lodged with the Transport Tribunal by March 28. The bearing of the Commission's application is expected to start in May,