LEYLAND PARTS IN NEW DUTCH BUS TO be known as the Holland coach, ▪ a new type of single-decker of
10th March 1950
Page 33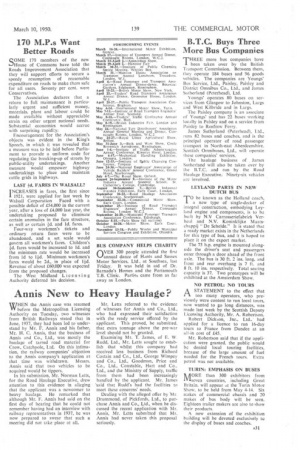 Page 33, 10th March 1950 —
LEYLAND PARTS IN NEW DUTCH BUS TO be known as the Holland coach, ▪ a new type of single-decker of
Close
integral construction, embodying Leyland engine' and components, is to be built by N.V Carrosseriefabriek Verheul and N.V. Koninklijke Maatschappij "Dc Schelde." It is stated that a ready market exists in the Netherlands for this type of bus, and it is hoped to place it on the export market.
rhe 75 h.p. engine is mounted alongside the driver's seat and passengers enter through a door ahead of the front axle. The bus is 30 ft. 2 ins, long, and front and rear overhang is 7 ft. and 8 ft. 10 ins. respectively. Total seating capacity is 37. Two prototypes will be exhibited at the Amsterdam Show.
NO PETROL: NO TOURS
ASTATEMENT to the effect that too many operators, who previously were content to -run local tours, now wanted to go long distances, was made last week by the Scottish Deputy Licensing Authority, Mr. A. Robertson.
Robert Dickson, •Jnr., Ltd.. had applied for a licence to run 16-day tours to France from Dundee at an all-in cost of £45.
Mr. Robertson said that if the application were granted, the public would bp denied local touring facilities, because of the large amount of fuel needed for the French tours. Extra petrol was not available.
TURIN: EMPHASIS ON BUSES NAORE than 300 exhibitors from Paseven countries, including Great Britain, will appear at the Turin Motor Show, to be held from May 4-14. Six makes of commercial chassis and 20 makes of bus body will be seen. Eighteen trailer makers are also to show their products.
A new extension of the exhibition building will be devoted exclusively totr the display of buses and coaches.