R.H.E. Losing Staff
10th March 1950
Page 32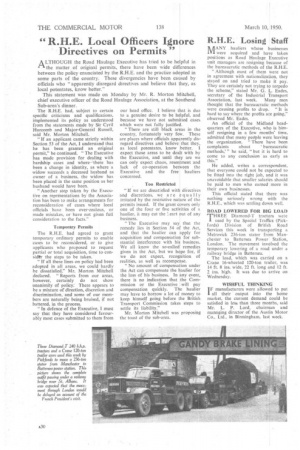 Page 32, 10th March 1950 —
R.H.E. Losing Staff
Close
pi /IAN Y hauliers whose businesses IVI were acquired and have 'taken positions as Road Haulage Executive unit managers are resigning because of the bureaucratic methods of the R.H.E.
" Although most of them were not in agreement with nationalization, they stayed on and tried to make it pay. They are certainly not trying to torpedo the scheme," stated Mr. G. L. Eades, secretary of the Industrial Transport Association, last week. Many men thought that the bureaucratic methods were causing profits to drop. "It is hard to say where the profits are going," observed Mr. Eades.
An official of the Midland headquarters of the Executive, who is himself resigning in a few months' time, admitted that many pedple were leaving the organization. "There have been
complaints about 'bureaucratic methods,'" he said, "but it is hard to come to any conclusion as early as this."
He added, writes a correspondent, that everyone could not be expected to be fitted into the right job, and it was unavoidable that smaller salaries should be paid to men who earned more in their own businesses.
This official stated that there was nothing seriously wrong with the R.H.E., which was settling down well,
ROAD LOWERED FOR BIG LOAD TI-TREE Diamond-'r tractors were
used by the Special Traffics (Pickfords) Division of British Road Services this week in transporting a Metrovick 236-ton stator from Manchester to Battersea Power Station, London. The movement involved the temporary lowering of a road under a railway bridge in Battersea.
The load, which was carried on a Crape 16-wheeled 120-ton trailer, was 14 ft. 8 ins. wide, 22 ft. long and 12 ft. 2 ins, high. It was due to arrive on Wednesday.
WISHFUL THINKING
IF manufacturers were allowed to put I all their output into the home market, the current demand could be satisfied in less than three months, said Mr. L. P. Lord, chairman and managing director of the Austin Motor Co., Ltd., in Birmingham, last week.