One Hears —
10th March 1950
Page 31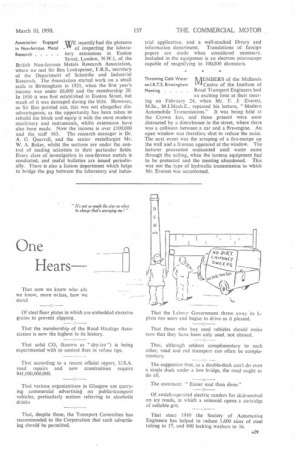 Page 31, 10th March 1950 —
One Hears —
Close
That now we know who sits we know, more or fess, how we stand.
Of steel floor plates in which are embedded abrasive grains to prevent slipping.
That the membership of the Road Haulage Association is now the highest in its history.
That solid CO, (known as "dry-ice ") is being experimented with to control fires in refuse tips.
That according to a recent official report, U.S.A. road repairs and new construction require $41,000,000,000.
That various organizations in Glasgow are querying commercial advertising on nublic-transport vehicles, particularly notices referring to alcoholic drinks
That, despite these, the Transport Committee has recommended to the Corporation that such advertising should be permitted.
That the Labour Government threw, away its Lplate too soon and began to drive as it pleased.
That _those who buy used vehicles should make sure that they have been only used, not abused.
That, although seldom complimentary to each other, road and rail transport can often be complementary.
The suggestion that, as a double-deck can't do even a single duck under a low bridge, the road ought to do all.
The comment: '" Easier said than done."
• Of switch-operated electric sanders for skid-control on icy roads, in which a solenoid opens a cartridge of suitable grit.
That since 1910 the Society of Antornotive Engineers has helped to reduce 1,600 sizes of steel tubing to 17, and 800 locking washers to 16.