Vote Was Against Nationalization
10th March 1950
Page 29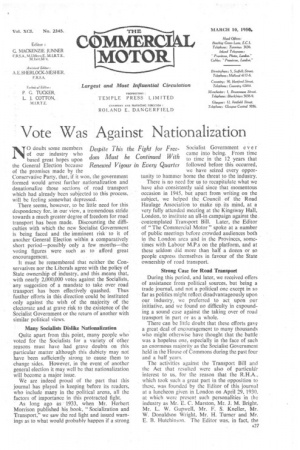 Page 30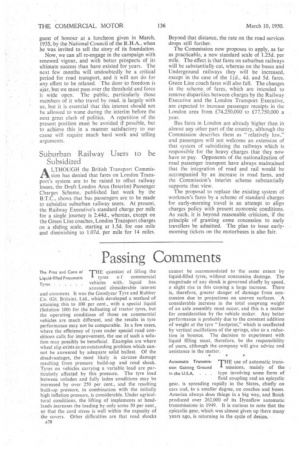 Page 29, 10th March 1950 —
Vote Was Against Nationalization
Close
N0 doubt some members of our industry who based great hopes upon the General Election because of the promises made by the Conservative Party, that, if it won, the government formed would arrest further nationalization and denationalize those sections of road transport which had already been subjected to this process, will be feeling somewhat depressed.
There seems, however, to be little need for this despondency for, in our view, a tremendous stride towards a much greater degree of freedom for road transport has been made. Discounting the difficulties with which the new Socialist Government is being faced and the imminent risk to it of another General Election within a comparatively short period—possibly only a few months—the voting figures were such as to afford great encouragement. .
It must be remembered that neither the Conservatives nor the Liberals agree with the policy of State ownership of industry, and this means that, with nearly 2,000,000 votes against the Socialists, any suggestion of a mandate to take over road transport has been effectively quashed. Thus fiir,ther efforts in this direction could be instituted only against the wish of the majority of the electorate and at grave risk to the existence of the• Socialist Government or the return of another with similar political views.
Many Sodalists Dislike Nationalization Quite apart from this point, many people who voted for the Socialists for a variety of other reasons must have had grave doubts on this particular matter although this dubiety may not have been sufficiently strong to cause them to change sides. However, in the event of another general election it may well be that nationalization will become a major issue.
We are indeed proud of the part that this journal has played in keeping before its readers, who include many in the political arena, all the factors of importance in this protracted fight.
As long ago as 1933, when Mr. Herbert Morrison published his book, "Socialization and Transport," we saw the red light and issued warnings as to what would probably happen if a strong Socialist Government ever came into being. From time to time in the 12 years that followed before this occurred, we have seized every opportunity to hammer home the threat to the industry.
There is no need for us to recapitulate what we have also consistently said since that momentous occasion in 1945, but apart from writing on the subject, we helped the Council of the Road Haulage Association to make tip, its mind, at a very fully attended meeting at the Kingsway Hall, London, to institute an all-in campaign against the contemplated Transport Bill. Later, the Editor of "The Commercial Motor" spoke at a number of public meetings before crowded audiences both in the London area and in the Provinces, sometimes with Labour M.P.s on the platform, and at these seldom did more than half a dozen or so people express themselves in favour of the State ownership of road transport.
Strong Case for Road Transport During this period, and later, we received offers of assistance from political sources, but being a trade journal, and not a political one except in so far as politics might reflect disadvantageously upon our industry, we preferred to act upon our initiative, and we found no difficulty in expounding a sound case against the taking over of road transport in part or as a whole.
There can be little doubt that these efforts gavq. a great deal of encouragement to many thousands who might otherwise have thought that the battle • was a hopeless one, especially in the face of such an enormous majority as the Socialist Government held in the House of Commons during the past four and a half years.
The activities against the Transport Bill and the Act that resulted were also of particular interest to us, for the reason that the REA., which took such a great part in the opposition to these, was founded by the Editor of this journal at a luncheon given in London on April 29, 1930. at which were present such personalities in the industry as Mr. E. C. Marston, Mr. J. M. Bright. Mr. L. W. Gupweil, Mr. F. S. Kneller, Mr. W. Donaldson Wright, Mr. H. Turner and Mr. E. B. Hutchinson. The Editor was. in fact, the guest of honour at a luncheon given in March, 1935. by the National Council of the R.H.A., when he was invited to tell the story of its foundation.
Now, we can all re-engage in the campaign with renewed vigour, and with better prospects of its ultimate success than have existed for years. The next few months will undoubtedly be a critical period for road transport, and it will not do for any effort to be relaxed. The door to freedom is ajar, but we must pass over the threshold and force it wide open. The public, particularly those members of it who travel by road, is largely with us, but it is essential that this interest should not be allowed to wane during the interim before the next great clash of politics. A repetition of the present position must be avoided it possible, but to achieve this in a manner satisfactory to our cause will require much hard work and telling arguments.
Suburban Railway Users to be Subsidized
ALTHOUGH the British Transport Commission has denied that fares on London Transport's system are to be raised to offset railway losses, the Draft London Area (Interim) Passenger Charges Scheme, published last week by the B.T.C., shows that bus passengers are to be made to subsidize suburban railway users. At present, the Railway Executive's standard charge per mile for a single journey is 2.44d., whereas, except on the Green Line coaches, London Transport charges on a sliding scale, starting at 1 .5d. for one mile and diminishing to 1.07d. per mile for 14 miles. Beyond that distance, the rate on the road services drops still further.
The Commission now proposes to apply, as far as practicable, a new standard scale of 1.25d. per mile. The effect is that fares on suburban railways will be substantially cut, whereas on the buses and Underground railways they will be increased, except in the case of the 14d., 4d. arid 5d. fares. Green Line coach fares will also fall. The changes in the scheme of fares, which are intended to remove disparities between charges by the RailWay Executive and the London Transport Executive, are expected to increase passenger receipts in the London area from £74,250,000 to £77,750,000 a year.
Bus fares in London are already higher than in almost any other part of the country, although the Commission describes them as "relatively low," and passengers will not welcome an extension of that system of subsidizing the railways which is responsible for the heavy charges that they now have to pay. Opponents of the nationalization of road passenger transport have always maintained that the integration of road and rail would be accompanied by an increase in road fares, and the Commission's interim scheme substantially supports that view.
The proposal to replace the existing system of workmen's fares by a scheme of standard charges for early-morning travel is an attempt to align charges policy with present economic conditions. As such, it is beyond reasonable criticism, if the principle of granting some concession to early travellers be admitted. The plan to issue earlymorning tickets on the motorbuses is also fair.