Police Constables Build 250-meal. Mobile Canteen
10th March 1944
Page 31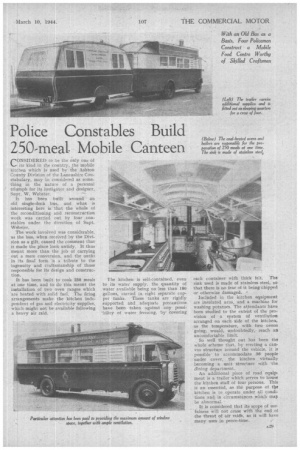 Page 31, 10th March 1944 —
Police Constables Build 250-meal. Mobile Canteen
Close
CONSIDERED to be the only one of its kind in the country, the mobile kitchen which is used by the Ashton Cminty Division of the Lancashire Constabulary, may be considered as something in the nature of a personal triumph for its instigator and designer, Supt. W. Webster.
It has been btijit around an old single-deck bus, and what is interesting here is that the Whole of the reconditioning and reconstruction work was carried out by four constables uuder the direction of Supt. Webster.
The work involved was considerable, • as the bus, when.received by the Division as a gift, caused the comment that it made the place look untidy. It thus meant more than the job of carrying out a mere conversion, and the outfit in its final form is a tribute to the ingenuity and craftsmanship of those responsible for its design and construction.
It has been built tocook 250 meals at one time, and to do this meant the installation of two oven ranges which are heated with solid fuel. The firing arrangements make the kitchen independent of gas and electricity supplies, which might not be available following a heavy air raid. • •
The kitchen is self-contained, even to its water supply, the quantity of water available being no less than 180 gallons, carried in eight separate copper tanks. These tanks are rigidly supported and adequate precautions have been• taken against any possi'bility of water freezing, by covering each container with thick felt. The sink used is made of stainless steel, so that there is no fear of it being chipped or otherwise damaged.
Included in the kitchen equipment are insulated urns, and a machine for washing potatoes. The attendants have been studied to the extent of the provision of a system of ventilation arranged on each side of the kitchen, as the temperature, with two ovens going, would, undoubtedly, reach an uncomfortable limit. "
So well thought out has been the whole scheme that, by erecting a canvas structure around the vehicle, it is possible. to accommodate 36 people under cover, the kitchen virtually becoming a unit structure with the dining department.
An additional piece of road equipment is a trailer which serves to house the kitchen staff of four persbas. This is an essential, as the purpose of tbe kitchen is to operate under all conditions and in circumstances which may be abnormal.
It is considered that its scope of usefulness will not cease with the end of the threat of air raids, as it will have many uses in peace-time.