Road Transport Keeps the Children Fed
10th March 1944
Page 25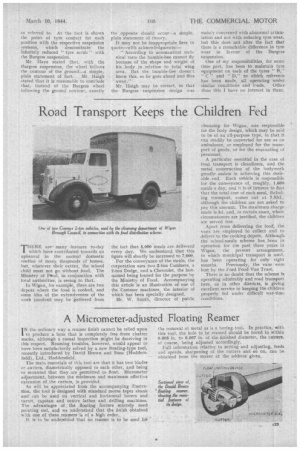 Page 25, 10th March 1944 —
Road Transport Keeps the Children Fed
Close
THERE are. many features to-day 1 which have contributed towards an upheaval in the normal domestic routine of many. thousands of homes, but, whatever their extent, theschool child must not go .without .food. The Ministry of Feocl, in conjunction with local authorities, is seeing to .that.
In Wigan, for example, there are two depots where the food is cooked, and some idea of the extensiveness of the work involved may be gathered from the fact that 5,000 meals are delivered every day. We understand that this figure will shoitly be increased to 7,000.
For the conveyance of the meals, the corporation uses two 2-ton Cominers, a 2-ton Dodge, and a Chevrolet, the lastnamed being loaned for the purpose by the Ministry of Food. Accompanying this article is an illustratidn of one of the *Cornmer machines, the interior of which has been specially designed.
Mr. W. Smith, director of public cleansing for Wigan, was responsible for the body design, which may be said to be of an all-purpose type, in that it can readily be Converted for use as an ambulance, or employed for the transport of goods, or for the evacuating of personnel. , , A particular essential in the case of food transport is cleanliness, and the metal construction of the bodywork greatly assists in achieving this desirable end. Each vehicle is responsible for the .conveyance of, roughly, 1,600 meals a day, and it is of interest to flim that the total cost of each :natal, ihclud ing transport, comes out at 7.53(.I., although the children are not asked to pay this amount. The maximum charge made is 5d. and, in certain.cases, where circumstances are justified, the children are served free..
Apart from delivering the food, the vans are employed to collect and to deliver to the cooking depots. Althoughthe school-meals scheme has been in operation for the past three years in Wigan, the . present arrangement, in which municipal transport is used. has been operating for only • eight monthS. Previously, the vans were lent by the Ford Food Van Trust.
There is no doubt that the scheme is operating admirably and road transport here, as in othei districts, is giving excellent service in keeping the children properly fed under difficult war-time conditions.