Halifax Bid to Secure Later Bus Services
10th March 1944
Page 20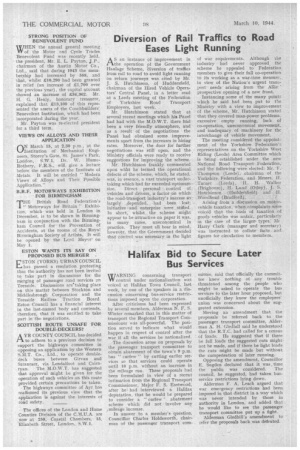 Page 20, 10th March 1944 —
Halifax Bid to Secure Later Bus Services
Close
WARNING concerning transport control under nationalization was voiced at Halifax Town Council, last week, by one of the speakers in a discussion concerning bus-service restrictions imposed upon the corporation.
After criticisms had been expressed by several members, Alderman N. F. S. Winter remarked that in this matter of transport the Regional Transport Commissioner was all-powerful. The position served to indicate what would happen in respect of control after the war if all the services be nationalized.
The discussion arose on proposals by the passenger transport committee to obtain abatement of the town's 9 p.m. bus " curfew " by cutting earlier services so that services could operate until 10 p.m. without an increase in the mileage run. These proposals had been formulated in view of a recent intimation from the Regional Transport Commissioner, Major F. S. Eastwood, after he had interviewed a Halifax deputation, that he would be prepared to consider a " curfew ' abatement scheme which did not involve any ,mileage increase.
In answer to a member's question, Councillor Charles Holdsworth, chairman of the passenger transport corn rnittee, said that officially the committee knew nothing of any trouble threatened among the people who might be asked to operate the bus services to the later hour proposed, but unofficially they knew the employees' union was concerned about the suggested extension. Moving an amendment that the proposals he referred back to the passenger transport committee, Alderman A. H. Gledhill said he understood that the R.T.C. had called for a census ' of loads. He suggested that if there be full loads the suggested cuts might not be made, and if there be light loads the cuts might be made but without the compensation of later running.
Opposing the amendment, Councillor E. Sugden declared that it was,.time the public was considered. The council, he suggested, had taken busservice restrictions lying down.
Alderman F. A. Leach argued that war emergency restrictions had been imposed in that district in a way which was never intended by those in authority in London, and added that he would like to see the passenger transport committee put up a fight. Alderman Gledhill's amendment to refer the proposals back was defeated.