Diversion of Rail Traffics to Road Eases Light Running
10th March 1944
Page 20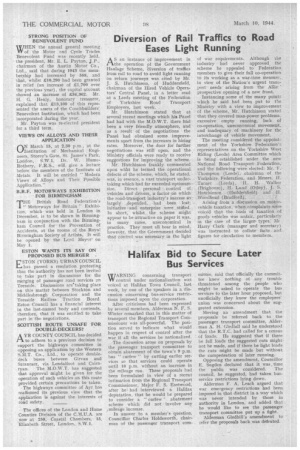 Page 20, 10th March 1944 —
Diversion of Rail Traffics to Road Eases Light Running
Close
tiA S an instance of improvement in the operation of the Government Haulage Scheme, *diversion of traffics from rail to road to avoid light running on return journeys was cited by Mr. J. S. Hutchinson, of Huddersfield, chairman of the Hired Vehicle Operators' Central Panel, in a letter read at a Leeds meeting of the Federation of Yorkshire Road Transport Employers, last week.
Mr. Hutchinson stated that at several recent meetings which his Panel had had with the M.O.W.T. there had been a very friendly atmosphere, and as a result of the negotiations the Panel had obtained some improvements apart from the increases in hiring rates. Moreover, the door for further negotiations was still open, and the Ministry officials were ready to receive suggestions for improving the scheme.
Mr. Mitchinson frankly commented upon %villa he termed the operational defects of the scheme, which, he stated, was, in essence, a vast transport undertaking which had far exceeded optimum size. Direct personal control of vehicles and drivers, a factor on which the road-transport industry's success so largely ,depended, had been lost: initiative .and enterprise were stifled. In short, whilst the scheme might appear to be attractive on paper it was, in many cases, uneconomical in practice. They must all bear in mind, however, that the Government decided that control was necessary in the light
of war requirements. Although the industry had never approved the scheme he appealed to Federation members to give their full co-operation to its working as a war-time measure, in view of the Nation's urgent transport needs' arising from the Allie-' prospective opening of a new front, Instancing some of the many points which he said had been put to the Ministry with a view to improvement of the scheme, Mr. Hutchinson stated that they covered man-power problems. excessive empty running, lack of co-operation, uneconomical movement. and inadequacy of machinery for thc. interchange of vehicle movement.
The meeting considered the appointment of the Yorkshire Federation'e representatives on -the 'Yorkshire West Riding (Leeds) Area Committee .which is being. esta.blished under the new National Road Transport Federation, and the following were elected: Mr. -F. Thompson. (Leeds),. chairman of the Yorkshire, Federation, and . Messrs. H. Turner . (Leeds), H. H. , Walker (Brighouse), H. Lund (Otley), J. S. Hutchinson (Huddersfield) and 11. WoOdhead . (Bradford ) .
Arising from a discussion on motorvehicle taxation , when., complaints we re voiced that the basis of taxation of goods vehicles was unfair, particularly in the case of the larger' types; Mr Harry Clark (manager and secretary). was instructed to collate facts and figures for circulation to members.