Sir Miles Thomas Condemns Changing Rule of Road
10th March 1944
Page 19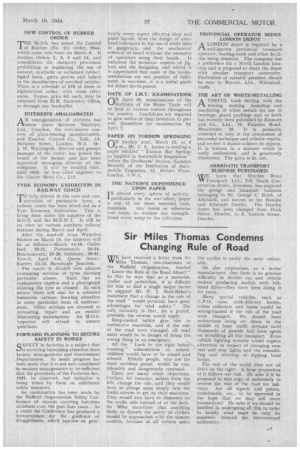 Page 19, 10th March 1944 —
Sir Miles Thomas Condemns Changing Rule of Road
Close
Mhave received a letter from Sir iles Thomas, vice-chairman of the Nuffield Organization, headed "Leave the Rule of the Road Alone!." In this he says that as a motorist, cyclist and pedestrian, it is difficult for him to find a single major factor to support. Mr. P. J. Noel-Baker's statement that a change in the rule of the road " would certainly have great advantages for rbad safety." The only certainty is that, for a period, precisely the reverse would apply.
Deep-rooted habits give rise to instinctive reactions, and if the rule of the road were changed, all road users would be in danger of doing the wrong thing in an .ernergency. All the " Look to the right before's-crossing " admonitions to schoolchildren would have to be erased and altered. Elderly people, who are the most accident prone, would be considerably and dangerously confused.
There are many other Objections. Cyclists, fOr instance, mount from the left; change the rule, and they would have to plunge more deeply into the traffic stream to get on their machines. They would also have -td dismount on the traffic side instead of at the kerb. Sir Miles. maintains "that anything likely to disturb .the safety Of cyclists should be approached. with the utmcist caution, because of all. vehicle users
the cyclist is easily the most vulnerable.
He also emphasizes, as a motor manufacturer, that there is no genuine difficulty in British car and vehicle makers .producing models with lef thand drive—they have been doing it for years.
Many special vehicles, such as G.P.O. vans, milk-delivery lorries, refuse collectors and buses would be wrong-handed if the rule of the road were changed. We should have pedestrians being set down in the middle of busy traffic streams until thousands. of pounds had been spent on rebuilding all this transport. Even Vehicle lighting systems would require , alteration in respect of changing over
rear and stop lights and the remodel ling and rewiring of dipping head lamps.
The .rest of the world does not all, drive on the right. A large proportion' of it follows our rule. He asks if it be proposed in this orgy of uniformity to reverse the rule of the road for railways. Arc all signals and points, narneboards, etc., to be uprooted in the hope that we may sell more locomotives? He asks if we should be' justified in undergoing all this in Order to satisfy what must he only an academic demand for international uniformity.