Piggy-back rail halted
10th June 1977
Page 5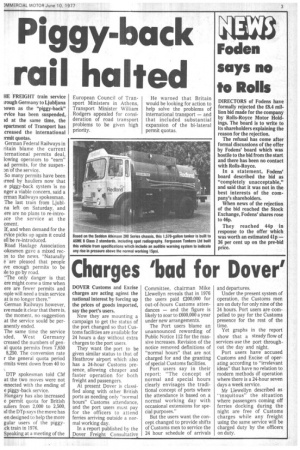 Page 5, 10th June 1977 —
Piggy-back rail halted
Close
HE FREIGHT train service rough Germany to Ljubljana town as the "piggy-back" rvice has been suspended, id at the same time, the epartment of Transport has creased the international .,!rmit quotas.
German Federal Railways in ritain blame the current ternational permits deal, lowing operators to "earn" ad permits, for the suspenan'of the service.
So many permits have been irned by hauliers now that e piggy-back system 'is no nger a viable concern, said a erman Railways spokesman. The last train from Ljublna left on Saturday, and ere are no plans to re-introIce the service at the oment.
If, and when demand for the rvice picks up again it could efl be re-introduced.
Road Haulage Association hokesmen gave a mixed recm to the news. "Naturally e are pleased that people we enough permits to be rle to go by road.
"The only danger is that are might come a time when ere are fewer permits and ople will need a train service at is no longer there."
German Railways however, we made it clear that there is, the moment, no suggestion at the service sould be peranently ended.
The same time the service ided, West Germany creased the numbers of genal quota permits from 7,850 8,250. The conversion rate r the general quota period rmits went down from 40 to DTP spokesman told CM at the two moves were not ■ nnected with the ending of e piggy-back service.
Hungary has also increased e permit quota for British iuliers from 2,000 to 2,500, id the DTp says the move has en designed to help the more gular users of the piggyek train in 1976.
Speaking at a meeting of the European Council of Transport Ministers in Athens, Transport Minister William Rodgers appealed for consideration of road transport problems to be given high priority. He warned that Britain would be looking for action to help solve the problems of international transport — and that included substantial expansion of the bi-lateral permit quotas.