[PEOPLE . '
10th June 1977
Page 18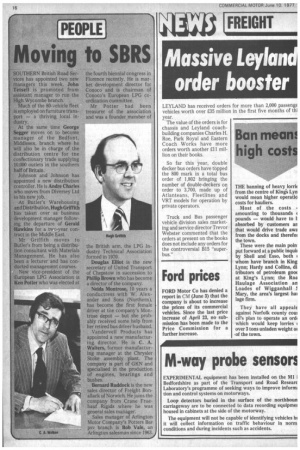 Page 18, 10th June 1977 —
[PEOPLE . '
Close
Moving to SBRS
SOUTHERN British Road Ser . . vices has appointed two new managers this week. John Tetsell is promoted from assistant manager to run the High Wycombe branch.
Much of the 80-vehicle fleet is employe.ti on furniture transport — a thriving local industry.
At the same time George Segger moves on to become manager of the Bedfont, Middlesex, branch where he will also be in charge of the distribution centre for the confectionary trade supplying 10,000 outlets in the southern half of Britain.
Johnson and Johnson has appointed a new distribution controller. He is Andre Charles who moves from Diversey Ltd to his new job, At Butler's Warehousing and Distribution, Hugh Griffith has taken over as business development manager following the departure of Gerald Haw-ions for a two-year contract in the Middle East.
Mr Griffith moves to Butler's from being a distribution consultant with Materials Management. He has also . been a lecturer and has conducted management courses. New vice-president of the Ellropean LPG Association is Ken Potter who was elected at the fourth biennial congress in Florence recently. He is market development director for Conoco and is chairman of Conoco's European LPG coordination committee.
Mr Potter had been treasurer of the association and was a founder member of the British arm, the LPG Industry Technical Association formed in 1970.
Douglas Elliot is the new secretary of United Transport of Chepstow in succession to Phillip Brown who has become a director of the company.
Nelda Montrose, 10 years a conductress with W. Alex ander and Sons (Northern), has become the first female driver at the company's Mon trose depot — but she prob ably received some help from her retired bus driver husband. 'Vandervell Products has appointed a new manufactur ing director. He is C. A.
Walters, former manufacturing manager at the Chrysler Stoke assembly plant. The company is part of GKN and specialised in the production of engines, bearings and bushes.
Bernard Ruddock is the new sales director of Freight Bon allack of Norwich. He, joins the company from Crane Fruehauf Rigids where he was general sales manager.
Sales manager of Arlington Motor Company's Potters Bar psv branch is Bob Vale, an Arlington salesman since 1963.
Tags
People
:
C. A. Walters
,
Nelda Montrose
,
Gerald Haw
,
John Tetsell
,
Ken Potter
,
Hugh Griffith
,
Bernard Ruddock
,
George Segger
,
Andre Charles
,
Johnson
,
Phillip Brown
,
Douglas Elliot