Truck driving is 'second-most sleep-deprived profession'
10th July 2008
Page 9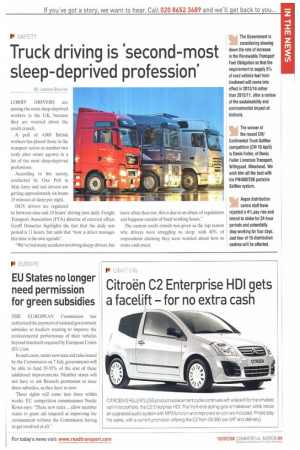 Page 9, 10th July 2008 —
Truck driving is 'second-most sleep-deprived profession'
Close
By Joanna Bourke LORRY DRIVERS are among the most sleep-deprived workers in the UK. because they are worried about the credit crunch.
A poll of 4.000 British workers has placed those in the transport sector as number two (only after estate agents) in a list of the most sleep-deprived professions.
According to the survey, conducted by One Poll in May, lorry and taxi drivers are getting approximately six hours 15 minutes of sleep per night.
HGV drivers are regulated to between nine and 10 hours' driving time daily, Freight Transport Association (FTA) director of external affairs Geoff Dossetter highlights the fact that the daily rest period is 11 hours, but adds that "how a driver manages this time is his own agenda".
"We've had many accidents involving sleepy drivers, but more often than not, this is due to an abuse of regulations and happens outside of fixed working hours."
The current credit crunch was given as the top reason why drivers were struggling to sleep, with 40% of respondents claiming they were worried about how to make ends meet. Egg;,Eii The Government is
considering slowing down the rate of increase in the Renewable Transport Fuel Obligation so that the requirement to supply 5% of road vehicle fuel from biodiesel will come into effect in 2013/14 rather than 2010/11, after a review of the sustainability and environmental impact of biofuels.
migidil The winner of the recent CM/ Continental Truck SatNav competition (CM 10 April) is Denis Fuller, of Denis Fuller Livestock Transport, 1Nithypool, Minehead. We wish him all the best with his PN4000TSB portable SatNav system.
-2i Argos distribution
centre staff have rejected a 4% pay rise and intend to strike for 24-hour periods and potentially slop working for four days. Just four of 15 distribution centres will be affected.