P FUEL PRICES
10th July 2008
Page 8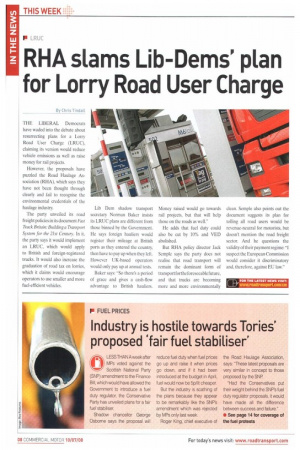 Page 8, 10th July 2008 —
P FUEL PRICES
Close
Industry is hostile towards Tories' proposed 'fair fuel stabiliser'
0 LESS THAN A week after MPs voted against the Scottish National Party (SNP) amendment to the Finance Bill, which would have allowed the Government to introduce a fuel duty regulator, the Conservative Party has unveiled plans for a fair fuel stabiliser.
Shadow chancellor George Osborne says the proposal will reduce fuel duty when fuel prices go up and raise it when prices go down, and if it had been introduced at the budget in April, fuel would now be 5p/lit cheaper.
But the industry is scathing of the plans because they appear to be remarkably like the SNP's amendment which was rejected by MPs only last week.
Roger King, chief executive of the Road Haulage Association, says: "These latest proposals are very similar in concept to those proposed by the SNP.
"Had the Conservatives put their weight behind the SNP's fuel duty regulator proposals, it would have made all the difference between success and failure."
• See page 14 for coverage of the fuel protests