Vosa stays in public hands and testing sites get £28m
10th July 2008
Page 7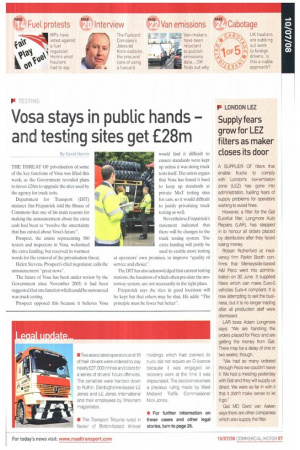 Page 7, 10th July 2008 —
Vosa stays in public hands and testing sites get £28m
Close
By David Harris THE THREAT OF privatisation of some of the key functions of Vosa was lifted this week, as the Government revealed plans to invest L28m to upgrade the sites used by the agency for truck tests.
Department for Transport (DfT) minister Jim Fitzpatrick told the House of Commons that one of his main reasons for making the announcement about the extra cash had been to "resolve the uncertainty that has existed about Vosa's future".
Prospect, the union representing 580 testers and inspectors in Vosa, welcomed the extra funding, but reserved its warmest words for the removal of the privatisation threat.
Helen Stevens, Prospect's chief negotiator, calls the announcement "great news".
The future of Vosa has been under review by the Government since November 2005; it had been suggested that one function which could be outsourced was truck testing.
Prospect opposed this because it believes Vosa
would find it difficult to ensure standards were kept up unless it was doing truck tests itself. The union argues that Vosa has found it hard to keep up standards at private MoT testing sites for cars, so it would difficult to justify privatising truck testing as well.
Nevertheless,Fitzpatrick's statement indicated that there will be changes to the truck testing system. The extra funding will partly be used to enable more testing at operators' own premises, to improve "quality of service and choice".
The DfT has also acknowledged that current testing stations, the locations of which often pre-date the motorway system, are not necessarily in the right place.
Fitzpatrick says the sites in good locations will be kept but that others may be shut. He adds: "The principle must he fewer but better".