Lining up the ducks
10th July 2008
Page 60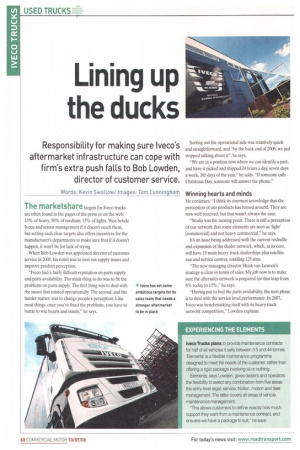 Page 61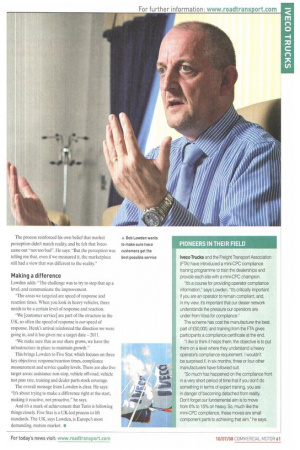 Page 60, 10th July 2008 —
Lining up the ducks
Close
Responsibility for making sure Iveco's aftermarket infrastructure can cope with firm's extra push falls to Bob Lowden, director of customer service.
Words: Kevin Swallow/ Images: Tom Cunningham The marketshare targets for Iveco trucks are often found in the pages of the press or on the web: 15% of heavy, 30% of medium, 15% of lights. Woe betide Iveco and senior management if it doesn't reach them, but setting such clear targets also offers incentives for the manufacturer's departments to make sure that if it doesn't happen, it won't be for lack of trying.
When Bob Lowden was appointed director of customer service in 2005, his remit was to iron out supply issues and improve product perception.
"Iveco had a fairly difficult reputation on parts supply and parts availability. The main thing to do was to fix the problems on parts supply. The first thing was to deal with v Iveco has set some the issues that existed operationally. The second, and the ambitious targets for its harder matter, was to change people's perception. Like sales team that needs a most things, once you've fixed the problems, you have to stronger aftermarket battle to win hearts and minds," he says. to be in place Sorting out the operational side was relatively quick and straightforward, and "by the back end of 2006, we just stopped talking about it", he says.
"We are in a position now where we can identify a part, and have it picked and shipped 24 hours a day, seven days a week, 365 days of the year," he adds. "If someone calls Christmas Day, someone will answer the phone."
Winning hearts and minds
He continues: "I think its common knowledge that the perception of our products has turned around. They are now well received, but that wasn't always the case.
"Stralis was the turning point. There is still a perception of our network that some elements are seen as `light' [commercial] and not heavy commercial," he says.
It's an issue being addressed with the current reshuffle and expansion of the dealer network, which, at its core, will have 18 main heavy truck dealerships plus satellite van and service centres, totalling 125 sites.
"The new managing director Henk van Leuven's strategy is clear in terms of sales. My job now is to make sure the aftersales network is prepared for that leap from 6% today to 15% ," he says.
"Having put to bed the parts availability, the next phase is to deal with the service level performance. In 2007, Iveco was benchmarking itself with its heavy truck network competition," Lowden explains.
Iveco Trucks plans to provide maintenance contracts for half of all vehicles it sells between 3.5 and 44 tonnes. 'Elements' is a flexible maintenance programme designed to meet the needs of the customer, rather than offering a rigid package involving all or nothing.
Elements, says Lowden, gives dealers and operators the flexibility to select any combination from five areas: the entry-level legal, service, friction, motion and fleet management. The latter covers all areas of vehicle maintenance management.
This allows customers to define exactly how much support they want from a maintenance contract, and ensures we have a package to suit," he says. The process reinforced his own belief that market perception didn't match reality, and he felt that Iveco came out "not too bad". He says: "But the perception was telling me that, even if we measured it, the marketplace still had a view that was different to the reality."
Making a difference
Lowden adds: "The challenge was to try to step that up a level, and communicate the improvement.
"The areas we targeted are speed of response and reaction times. When you look in heavy vehicles, there needs to be a certain level of response and reaction.
"We [customer service] are part of the structure in the UK, so often the speed of response is our speed of response. Henk's arrival reinforced the direction we were going in, and it has given me a target date — 2011.
"We make sure that as our share grows, we have the infrastructure in place to maintain growth."
This brings Lowden to Five Star, which focuses on three key objectives: response/reaction times, compliance measurement and service quality levels. There are also five target areas: assistance non-stop, vehicle off-road, vehicle test pass rate, training and dealer parts stock coverage.
The overall message from Lowden is clear. He says: "It's about trying to make a difference right at the start, making it reactive, not proactive," he says.
And it's a mark of achievement that Turin is following things closely. Five Star is a UK-led process to lift standards. The UK, says Lowden, is Europe's most demanding, mature market.
PIONEERS IN THEIR FIELD
Iveco Trucks and the Freight Transport Association (PIA) have introduced a mini-CPC compliance training programme to train the dealerships and provide each site with a mini-CPC champion.
"It's a course for providing operator compliance information," says Lowden. "it's critically important if you are an operator to remain compliant, and, in my view, it's important that our dealer network understands the pressure our operators are under from Vasa for compliance."
The scheme has cost the manufacturer the best part of £50,0013, and training from the FTA gives participants a compliance certificate at the end.
"I like to think it helps them, the objective is to put them on a level where they understand a heavy operator's compliance requirement. I wouldn't be surprised if, in six months, three or four other manufacturers have followed suit.
"So much has happened on the compliance front in a very short period of time that if you don't do something in terms of expert training, you are in danger of becoming detached from reality. Don't forget our fundamental aim is to move from 6% to 15% on heavy So, much like the mini-CPC compliance, these moves are small component parts to achieving that aim," he says.