Keeping up the pressure
10th July 2008
Page 46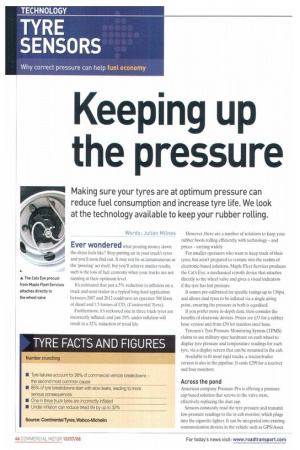 Page 47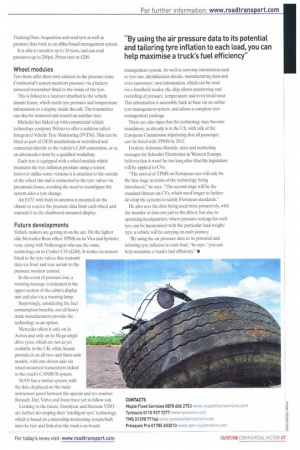 Page 46, 10th July 2008 —
Keeping up the pressure
Close
Making sure your tyres are at optimum pressure can reduce fuel consumption and increase tyre life. We look at the technology available to keep your rubber rolling.
Words: Julian Mitnes
Ever wondered what pouring money down the drain feels like? Stop putting air in your truck's tyres and you'll soon find out. It may not be as instantaneous as the 'pouring' act itself, but you'll achieve similar results, such is the loss of fuel economy when your trucks are not running at their optimum level.
It's estimated that just a 5% reduction in inflation on a truck and semi-trailer in a typical long-haul application between 2007 and 2012 could save an operator 500 litres of diesel and 1.5 tonnes of CO2 (Continental Tyres).
Furthermore, it's reckoned one in three truck tyres are incorrectly inflated, and just 20% under-inflation will result in a 32% reduction of tread life. However, there are a number of solutions to keep your rubber boots rolling efficiently, with technology — and prices — varying widely.
For smaller operators who want to keep track of their tyres, but aren't prepared to venture into the realms of electronic-based solutions, Maple Fleet Services produces the Cat's Eye, a mechanical retrofit device that attaches directly to the wheel valve and gives a visual indication if the tyre has lost pressure.
It comes pre-calibrated for specific ratings up to 130psi, and allows dual tyres to be inflated via a single airing point, ensuring the pressure in both is equalised.
If you prefer more in-depth data, then consider the benefits of electronic devices. Prices are £33 for a rubber hose version and from £39 for stainless steel hose.
Tyresure's Tyre Pressure Monitoring System (TPMS) claims to use military-spec hardware on each wheel to display tyre pressure and temperature readings for each tyre, via a display screen that can be mounted in the cab.
Available to fit most rigid trucks, a tractor/trailer version is also in the pipeline. It costs £299 for a receiver and four monitors.
Across the pond American company Pressure Pro is offering a pressure cap-based solution that screws to the valve stem, effectively replacing the dust cap.
Sensors constantly read the tyre pressure and transmit low-pressure readings to the in-cab monitor, which plugs into the cigarette lighter. It can be integrated into existing communication devices in the vehicle such as GPS/Asset Tracking/Data Acquisition and send tyre as well as pressure data back to an office-based management system. It is able to monitor up to 34 tyres, and can read pressures up to 200psi. Prices start at £200.
Wheel modules
Tyre firms offer their own solution to the pressure issue. Continental's system monitors pressure via a battery powered transmitter fitted to the inside of the tyre.
This is linked to a receiver attached to the vehicle chassis frame, which sends tyre pressure and temperature information to a display inside the cab. The transmitter can also be removed and reused on another tyre.
Michelin has linked up with commercial vehicle technology company Wabco to offer a solution called Integrated Vehicle Tyre Monitoring (I'VTM). This can be fitted as part of OEM installations or retrofitted and connected directly to the vehicle's CAN connection, or as an aftermarket item by a qualified workshop.
Each tyre is equipped with a wheel module which measures the tyre inflation pressure using a sensor, however unlike some versions it is attached to the outside of the wheel rim and is connected to the tyre valves via pneumatic hoses, avoiding the need to reconfigure the system after a tyre change.
An ECU with built-in antenna is mounted on the chassis to receive the pressure data from each wheel and transmit it to the dashboard mounted display.
Future developments
Vehicle makers are getting in on the act. On the lighter side Mercedes-Benz offers TPMS on its Vito and Sprinter vans, along with Volkswagen who use the same technology on its Crafter 05 (£240). It works via sensors fitted to the tyre valves that transmit data via front and rear aerials to the pressure monitor control.
In the event of pressure loss, a warning message is indicated in the upper section of the cabin's display unit and also via a warning lamp.
Surprisingly, considering the fuel consumption benefits, not all heavy truck manufacturers provide the technology as an option.
Mercedes offers it only on its Actros and only on its Mega-single drive tyres, which are not as yet available in the UK, while Scania provides it on all twoand three-axle models, with one driven axle via wheel-mounted transmitters linked to the truck's CANBUS system.
MAN has a similar system, with the data displayed on the main instrument panel between the speedo and rev counter. Renault, Daf, Volvo and Iveco have yet to follow suit.
Looking to the future, Goodyear and Siemens VDO are further developing their 'intelligent tyre' technology, which is based on a microchip monitoring system built into the tyre and linked to the truck's on-board management system. As well as carrying information such as tyre size, identification details, manufacturing data and even customers' own information, which can he read via a handheld reader, the chip allows monitoring and recording of pressure, temperature and even tread wear. This information is accessible back at base via an online tyre management system, and allows a complete tyre management package.
There are also signs that the technology may become mandatory, as already is in the US, with talk of the European Commission stipulating that all passenger cars be fitted with TPMS by 2012.
Frederic Arbousse-Bastide, sales and marketing manager for Schrader Electronics in Western Europe, believes that it won't be too long after that the legislation will be applied to CVs.
"The arrival of TPMS on European cars will only be the first stage in terms of the technology being introduced," he says. -The second stage will be the standard fitment on CVs, which need longer to further develop the systems to satisfy European standards."
He also sees the data being used more proactively, with the transfer of data not just to the driver, but also to operating headquarters, where pressure settings for each tyre can be harmonised with the particular load weight/ type a vehicle will be carrying on each journey.
-By using the air pressure data to its potential and tailoring tyre inflation to each load, "he says, "you can help maximise a truck's fuel efficiency." •