• ii
10th July 2008
Page 32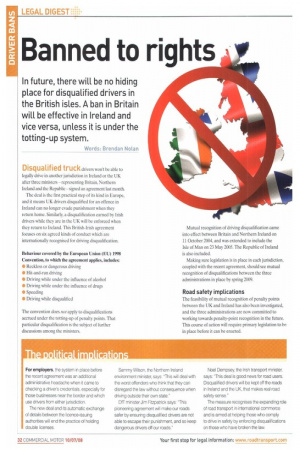 Page 32, 10th July 2008 —
• ii
Close
SI I
For employers, the system in place before the recent agreement was an additional administrative headache when it came to checking a driver's credentials, especially for those businesses near the border and which use drivers from either jurisdiction.
The new deal and its automatic exchange of details between the licence-issuing authorities will end the practice of holding double licenses. Sammy Wilson, the Northern Ireland environment minister, says: "This will deal with the worst offenders who think that they can disregard the law without consequence when driving outside their own state."
DtT minister Jim Fitzpatrick says: "This pioneering agreement will make our roads safer by ensuring disqualified drivers are not able to escape their punishment, and so keep dangerous drivers off our roads,"
Noel Dempsey, the Irish transport minister, says: "This deal is good news for road users. Disqualffied drivers will be kept off the roads in Ireland and the UK, that makes real road safety sense."
The measure recognises the expanding role of road transport in international commerce and is aimed at helping those who comply to drive in safety by enforcing disqualifications on those who have broken the law.