No 0-licence costs £735
10th July 2008
Page 28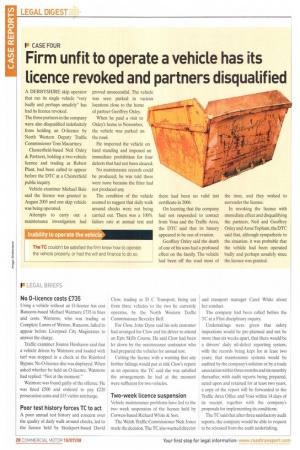 Page 28, 10th July 2008 —
No 0-licence costs £735
Close
Using a vehicle without an 0-licence has cost Runcorn-based Michael Watmore £735 in fines and costs. Watmore, who was trading as Complete Lawns of Weston, Runcorn, failed to appear before Liverpool City Magistrates to answer the charge.
Traffic examiner Joanne Henharen said that a vehicle driven by Watmore and loaded with turf was stopped in a check at the Rainford Bypass. No 0-licence disc was displayed. When asked whether he held an 0-licence, Watmore had replied: "Not at the moment."
Watmore was found guilty of the offence. He was fined £500 and ordered to pay £220 prosecution costs and £15 victim surcharge.
Poor test history forces TC to act
A poor annual test history and concern over the quality of daily walk around checks, led to the licence held by Stockport-based David Clow, trading as D C Transport, being cut from three vehicles to the two he currently operates, by the North Western Traffic Commissioner Beverley Bell.
For Clow, John Dyne said his sole customer had arranged for Clow and his driver to attend an Epic Skills Course. He said Clow had been let down by the maintenance contractor who had prepared the vehicles for annual test.
Cutting the licence with a warning that any further failings would put at risk Clow's repute as an operator, the TC said she was satisfied the arrangements he had at the moment were sufficient for two vehicles.
Two-week licence suspension
Vehicle maintenance problems have led to the two week suspension of the licence held by Corwen-based Richard White & Son.
The Welsh Traffic Commissioner Nick Jones made the decision. The TC also warned director and transport manager Carol White about her conduct.
The company had been called before the TC at a Flint disciplinary inquiry.
Undertakings were given that safety inspections would be pre-planned and not be more than six weeks apart, that there would be a drivers' daily nil-defect reporting system, with the records being kept for at least two years; that maintenance systems would be audited by the company's solicitor or by a trade association within three months and six monthly thereafter, with audit reports being prepared, acted upon and retained for at least two years, a copy of the report will be forwarded to the Traffic Area Office and Vosa within 14 days of its receipt, together with the company's proposals for implementing its conditions.
The TC said that after three satisfactory audit reports, the company would be able to request to be released from the audit undertaking.