Firm unfit to operate a vehicle has its Licence revoked and partners disqualified
10th July 2008
Page 28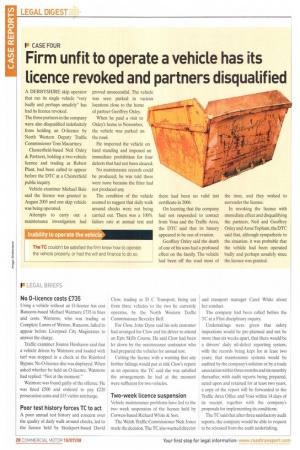 Page 28, 10th July 2008 —
Firm unfit to operate a vehicle has its Licence revoked and partners disqualified
Close
A DERBYSHIRE skip operator that ran its single vehicle "very badly and perhaps unsafely" has had its licence revoked.
The three partners in the company were also disqualified indefinitely from holding an 0-licence by North Western Deputy Traffic Commissioner Tom Macartney.
Chesterfield-based Neil Oxley & Partners, holding a two-vehicle licence and trading as Robert Plant, had been called to appear before the DTC at a Chesterfield public inquiry.
Vehicle examiner Michael Bale said the licence was granted in August 2005 and one skip vehicle was being operated.
Attempts to carry out a maintenance investigation had proved unsuccessful. The vehicle was seen parked in various locations close to the home of partner Geoffrey Oxley.
When he paid a visit to Oxley's home in November, the vehicle was parked on the road.
He inspected the vehicle on hard standing and imposed an immediate prohibition for four defects that had not been cleared.
No maintenance records could be produced; he was told there were none because the fitter had not produced any.
The condition of the vehicle seemed to suggest that daily walk around checks were not being carried out. There was a 100% failure rate at annual test and there had been no valid test certificate in 2006.
On learning that the company had not responded to contact from Vosa and the Traffic Area, the DTC said that its history appeared to be one of evasion.
Geoffrey Oxley said the death of one of his sons had a profound effect on the family. The vehicle had been off the road most of the time, and they wished to surrender the licence.
In revoking the licence with immediate effect and disqualifying the partners, Neil and Geoffrey Oxley and Anne Topham, the DTC said that, although sympathetic to the situation, it was probable that the vehicle had been operated badly and perhaps unsafely since the licence was granted.