has ruled in favour of a firm that It overturned
10th July 2008
Page 27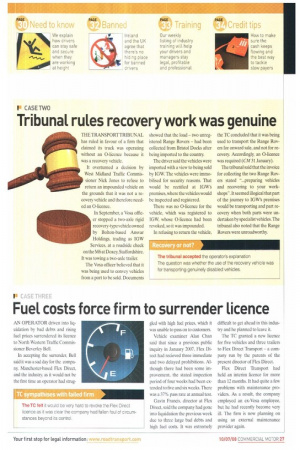 Page 27, 10th July 2008 —
has ruled in favour of a firm that It overturned
Close
a decision by West Midland Traffic Commissioner Nick Jones to refuse to return an impounded vehicle on the grounds that it was not a recovery vehicle and therefore needed an 0-licence. 41110 In September, a Vosa officer stopped a two-axle rigid recovery-type vehicle owned by Bolton-based Ansvar Holdings, trading as IGW Services, at a roadside check on the M6 at Doxey, Staffordshire. It was towing a two-axle trailer. The Vosa officer believed that it was being used to convey vehicles from a port to be sold. Documents showed that the load — two unregistered Range Rovers — had been collected from Bristol Docks after being imported to the country.
The driver said the vehicles were imported with a view to being sold by IGW. The vehicles were immobilised for security reasons. That would be rectified at IGW's premises, where the vehicles would be inspected and registered.
There was no 0-licence for the vehicle, which was registered to IGW, whose 0-licence had been revoked, so it was impounded.
In refusing to return the vehicle, the TC concluded that it was being used to transport the Range Rovers for onward sale, and not for recovery. Accordingly, an 0-licence was required (CM 31 January).
The tribunal said that the invoice for collecting the two Range Rovers stated "...preparing vehicles and recovering to your workshops". It seemed illogical that part of the journey to IOW's premises would be transporting and part recovery when both parts were undertaken by specialist vehicles. The tribunal also noted that the Range Rovers were unroadworthy.