Let battle commence
10th July 2008
Page 24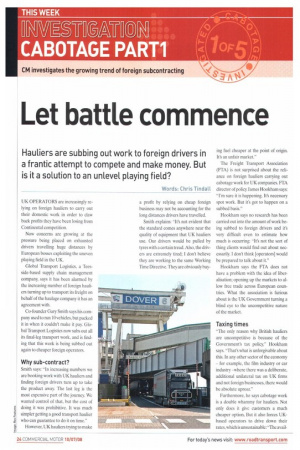 Page 25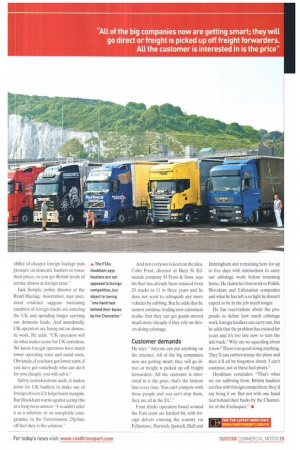 Page 24, 10th July 2008 —
Let battle commence
Close
Hauliers are subbing out work to foreign drivers in a frantic attempt to compete and make money. But is it a solution to an unlevel playing field?
Words: Chris Tindall UK OPERATORS are increasingly relying on foreign hauliers to carry out their domestic work in order to claw back profits they have been losing from Continental competition.
Now concerns are growing at the pressure being placed on exhausted drivers travelling huge distances by European bosses exploiting the uneven playing field in the UK.
Global Transport Logistics, a Teesside-based supply chain management company, says it has been alarmed by the increasing number of foreign hauliers turning up to transport its freight on behalf of the haulage company it has an agreement with.
Co-founder Gary Smith says his company used to run 10 vehicles, but packed it in when it couldn't make it pay. Global Transport Logistics now subs out all its final-leg transport work, and is finding that this work is being subbed out again to cheaper foreign operators.
Why sub-contract?
Smith says: "In increasing numbers we are booking work with UK hauliers and finding foreign drivers turn up to take the product away. The last leg is the most expensive part of the journey. We wanted control of that, but the cost of doing it was prohibitive. It was much simpler getting a good transport haulier who can guarantee to do it on time."
However, UK hauliers trying to make a profit by relying on cheap foreign business may not be accounting for the long distances drivers have travelled.
Smith explains: "It's not evident that the standard comes anywhere near the quality of equipment that UK hauliers use. Our drivers would be pulled by tyres with a certain tread. Also, the drivers are extremely tired; I don't believe they are working to the same Working Time Directive. They are obviously buy ing fuel cheaper at the point of origin. It's an unfair market."
The Freight Transport Association (FTA) is not surprised about the reliance on foreign hauliers carrying out cabotage work for UK companies. FTA director of policy James Hookham says: "I'm sure it is happening. It's necessary spot work. But it's got to happen on a subbed basis."
Hookham says no research has been carried out into the amount of work being subbed to foreign drivers and it's very difficult even to estimate how much is occurring: -It's not the sort of thing clients would find out about necessarily. I don't think [operators] would be prepared to talk about it."
Hookham says the FTA does not have a problem with the idea of liberalisation; opening up the markets to allow free trade across European countries. What the association is furious about is the UK Government turning a blind eye to the uncompetitive nature of the market.
Taxing times "The only reason why British hauliers are uncompetitive is because of the Government's tax policy," Hookham says. "That's what is unforgivable about this. In any other sector of the economy for example, the film industry or car industry -where there was a deliberate, additional unilateral tax on UK firms and not foreign businesses, there would be absolute uproar."
Furthermore, he says cabotage work is a double whammy for hauliers. Not only does it give customers a much cheaper option, But it also forces UKbased operators to drive down their rates, which is unsustainable: "The avail ability of cheaper foreign haulage puts pressure on domestic hauliers to lower their prices, so you get British levels of service almost at foreign rates."
Jack Semple, policy director at the Road Haulage Association, says anecdotal evidence suggests increasing numbers of foreign trucks are entering the UK and spending longer carrying out domestic loads. And anecdotally, UK operators are losing out on domestic work, He adds: -UK operators will do what makes sense for UK operators. We know foreign operators have much lower operating costs and social costs. Obviously, if you have got lower costs, if you have got somebody who can do it for you cheaply, you will sub it."
Safety considerations aside, it makes sense for UK hauliers to make use of foreign drivers if it helps boost margins. But Hookham warns against seeing this as a long-term answer: "I wouldn't offer it as a solution, or an acceptable compromise to the Government. 25p/litre off fuel duty is the solution." And not everyone is keen on the idea. Colin Frost, director at Bury St Edmunds company H Frost & Sons, says his fleet has already been reduced from 20 trucks to 11 in three years and he does not want to relinquish any more vehicles by subbing. But he adds that he cannot continue trading now customers realise that they can get goods moved much more cheaply if they rely on drivers doing cabotage.
Customer demands
He says: "Anyone can put anything on the internet. All of the big companies now are getting smart; they will go direct or freight is picked up off freight forwarders. All the customer is interested in is the price, that's the bottom line every time. You can't compete with these people and you can't stop them, they are all in the EU."
Frost thinks operators based around the East coast are hardest hit, with foreign drivers entering the country via Felixstowe, Harwich, Ipswich, Hull and Immingham and remaining here for up to five days with instructions to carry out cabotage work before returning home. He claims he's lost work to Polish, Slovakian and Lithuanian companies and what he has left is so tight he doesn't expect to be in the job much longer.
He has reservations about the proposals to define how much cabotage work foreign hauliers can carry out, but he adds that the problem has existed for years and it's too late now to turn the tide back: "Why are we squealing about it now? There's no good doing anything. They'll just rubber-stamp the plans and then it'll all be Forgotten about. I can't continue, not at these fuel prices."
Hookham concludes: "That's what we are suffering from. British hauliers are fine with foreign competition; they'd say bring it on. But not with one hand tied behind their backs by the Chancellor of the Exchequer." •