Facts and figures
10th July 2008
Page 22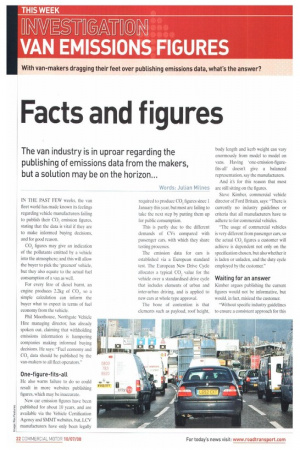 Page 23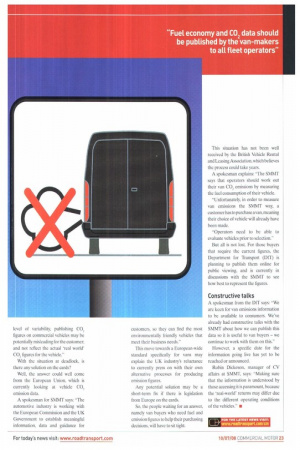 Page 22, 10th July 2008 —
Facts and figures
Close
The van industry is in uproar regarding the publishing of emissions data from the makers, but a solution may be on the horizon...
Words: Julian Manes
IN THE PAST FEW weeks, the van fleet world has made known its feelings regarding vehicle manufacturers failing to publish their CO, emission figures, stating that the data is vital if they are to make informed buying decisions, and for good reason.
CO, figures may give an indication of the pollutants emitted by a vehicle into the atmosphere; and this will allow the buyer to pick the 'greenest' vehicle. but they also equate to the actual fuel consumption of a van as well.
For every litre of diesel burnt, an engine produces 2.2kg of CO, so a simple calculation can inform the buyer what to expect in terms of fuel economy from the vehicle.
Phil Moorhouse, Northgate Vehicle Hire managing director, has already spoken out, claiming that withholding emissions information is hampering companies making informed buying decisions. He says: "Fuel economy and CO, data should be published by the van-makers to all fleet operators."
One-figure-fits-all
He also warns failure to do so could result in more websites publishing figures, which may be inaccurate.
New car emission figures have been published for about 10 years, and are available via the Vehicle Certification Agency and SMMT websites, but, LCV manufacturers have only been legally required to produce CO2 figures since 1 January this year, but most are failing to take the next step by putting them up for public consumption.
This is partly due to the different demands of CVs compared with passenger cars, with which they share testing processes.
The emission data for cars is established via a European standard test. The European New Drive Cycle allocates a typical CO, value for the vehicle over a standardised drive cycle that includes elements of urban and inter-urban driving, and is applied to new cars at whole type approval.
The bone of contention is that elements such as payload, roof height, body length and kerb weight can vary enormously from model to model on vans. Having 'one-emission-figurefits-all' doesn't give a balanced representation, say the manufacturers.
And it's for this reason that most are still sitting on the figures.
Steve Kimber, commercial vehicle director of Ford Britain, says: -There is currently no industry guidelines or criteria that all manufacturers have to adhere to for commercial vehicles.
"The usage of commercial vehicles is very different from passenger cars, so the actual CO, figures a customer will achieve is dependent not only on the specification chosen, but also whether it is laden or unladen, and the duty cycle employed by the customer."
Waiting for an answer
Kim ber argues publishing the current figures would not be informative, but would, in fact, mislead the customer.
"Without specific industry guidelines to ensure a consistent approach for this level of variability, publishing CO2 figures on commercial vehicles may be potentially misleading for the customer; and not reflect the actual 'real world' CO2 figures for the vehicle."
With the situation at deadlock, is there any solution on the cards?
Well, the answer could well come from the European Union, which is currently looking at vehicle CO2 emission data.
A spokesman for SMMT says: "The automotive industry is working with the European Commission and the UK Government to establish meaningful information, data and guidance for customers, so they can find the most environmentally friendly vehicles that meet their business needs."
This move towards a European-wide standard specifically for vans may explain the UK industry's reluctance to currently press on with their own alternative processes for producing emission figures.
Any potential solution may be a short-term fix if there is legislation from Europe on the cards.
So, the people waiting for an answer, namely van buyers who need fuel and emission figures to help their purchasing decisions, will have to sit tight. This situation has not been well received by the British Vehicle Rental and Leasing Association, which believes the process could take years.
A spokesman explains: "The SMMT says that operators should work out their van CO, emissions by measuring the fuel consumption of their vehicle.
-Unfortunately, in order to measure van emissions the SMMT way, a customer has to purchase a van, meaning their choice of vehicle will already have been made.
"Operators need to be able to evaluate vehicles prior to selection."
But all is not lost. For those buyers that require the current figures, the Department for Transport (DfT) is planning to publish them online for public viewing, and is currently in discussions with the SMMT to see how best to represent the figures.
Constructive talks
A spokesman from the Dff says: "We are keen for van emissions information to be available to consumers. We've already had constructive talks with the SMMT about how we can publish this data so it is useful to van buyers we continue to work with them on this."
However, a specific date for the information going live has yet to be reached or announced.
Robin Dickeson, manager of CV affairs at SMMT, says: "Making sure that the information is understood by those accessing it is paramount, because the 'real-world' returns may differ due to the different operating conditions of the vehicles." •