HGV driver Lucy Radley explains that drivers do like to socialise but only when it's on their own terms
10th July 2008
Page 16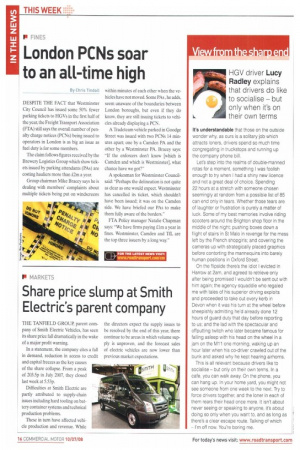 Page 16, 10th July 2008 —
HGV driver Lucy Radley explains that drivers do like to socialise but only when it's on their own terms
Close
It's understandable that those on the outside wonder why, as ours is a solitary job which attracts loners, drivers spend so much time congregating in truckstops and running up the company phone bill.
Let's step into the realms of double-manned rotas for a moment, something I was foolish enough to try when I had a shiny new licence and not a great deal of choice. Spending 22 hours at a stretch with someone chosen seemingly at random from a possible list of 85 can end only in tears. Whether those tears are of laughter or frustration is purely a matter of luck. Some of my best memories involve riding scooters around the Brighton shop floor in the middle of the night; pushing boxes down a flight of stairs in St Malo in revenge for the mess left by the French shopgirls; and covering the cameras up with strategically placed graphics before contorting the mannequins into barely human positions in Oxford Street.
On the flipside there's the idiot I evicted in Harrow at 2am, and agreed to retrieve only after being promised I wouldn't be sent out with him again; the agency squaddie who regaled me with tales of his superior driving exploits and proceeded to take out every kerb in Devon when it was his turn at the wheel before sheepishly admitting he'd already done 12 hours of guard duty that day before reporting to us; and the lad with the spectacular and offputting twitch who later became famous for falling asleep with his head on the wheel in a jam on the M11 one morning, waking up an hour later when his co-driver crawled out of the bunk and asked why he kept hearing airhorns.
This is all relevant because drivers like to socialise but only on their own terms. In a cafe, you can walk away. On the phone, you can hang up. In your home yard, you might not see someone from one week to the next. Try to force drivers together, and the loner in each of them rears their head once more. It isn't about never seeing or speaking to anyone, it's about doing so only when you want to, and as long as there's a clear escape route. Talking of which I'm off now. You're boring me.