Economic slump fails to Akiii t slow logistics growth
10th July 2008
Page 13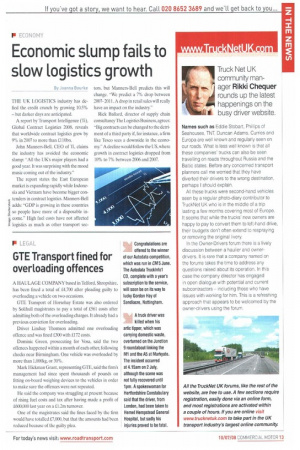 Page 13, 10th July 2008 —
Economic slump fails to Akiii t slow logistics growth
Close
By Joanna Bourke THE UK LOGISTICS industry has defied the credit crunch by growing 10.5% — but darker days are anticipated.
A report by Transport Intelligence (Ti), Global Contract Logistics 2008, reveals that worldwide contract logistics grew by 9% in 2007 to more than 1,110bn.
John Manners-Bell, CEO of Ti, claims the industry has avoided the economic slump: "All the UK's major players had a good year. It was surprising with the mood music coming out of the industry."
The report states the East European market is expanding rapidly while Indonesia and Vietnam have become bigger con .. tenders in contract logistics. Manners-Bell adds: "GDP is growing in these countries so people have more of a disposable in .
g, come." High fuel costs have not affected 3 logistics as much as other transport sec tors, but Manners-Bell predicts this will change. "We predict a 7% drop between 20072011. A drop in retail sales will really have an impact on the industry" Rick Ballard, director of supply chain consultancy The Logistics Business, agrees: "Big contracts can be changed to the detriment of a third party if, for instance, a firm like Tesco sees a downside in the economy." A decline would follow the US, where growth in contract logistics dropped from 10% to 7% between 2006 and 2007.