P DIVERSIFICATION
10th July 2008
Page 10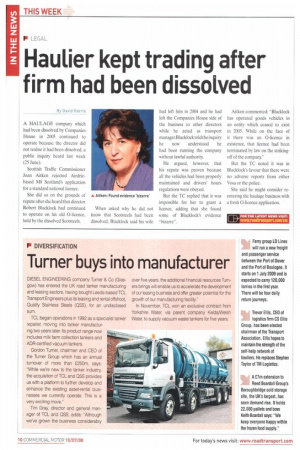 Page 10, 10th July 2008 —
P DIVERSIFICATION
Close
Turner buys into manufacturer
DIESEL ENGINEERING company Turner & Co (Glasgow) has entered the UK road tanker manufacturing and leasing sectors, having bought Leeds-based TCL Transport Engineers plus its leasing and rental offshoot, Quality Stainless Steels (QSS), for an undisclosed sum.
TCL began operations in 1992 as a specialist tanker repairer, moving into tanker manufactur ing two years later. Its product range now includes milk farm collection tankers and ADR-certified vacuum tankers.
Gordon Turner, chairman and CEO of the Turner Group which has an annual turnover of more than 2.250m, says: "While we're new to the tanker industry, the acquisition of TCL and QSS provides us with a platform to further develop and enhance the existing asset-rental businesses we currently operate. This is a very exciting move."
Tim Gray, director and general manager of TCL and QSS, adds: "Although we've grown the business considerably
over five years, the additional financial resources Turners brings will enable us to accelerate the development of our leasing business and offer greater potential for the growth of our manufacturing facility."
In November, TCL won an exclusive contract from Yorkshire Water, via parent company Kelda/Welsh Water, to supply vacuum waste tankers for five years.
Ferry group LD Lines • T , will run a new freight and passenger service between the Port of Dover and the Port of Boulogne. It starts on 1 July 2009 and is expected to carry 120,000 lorries in the first year. There will be four daily return journeys.
Trevor Ellis, CEO of logistics firm CS Ellis Group, has been elected chairman of the Transport Association. Ellis hopes to maintain the strength of the self-help network of hauliers. He replaces Stephen Taylor of TM Logistics.
; A E7m extension to
Reed Boardall Group's Boroughbridge cold storage site, the UK's largest, has seen demand rise. It holds 22,000 pallets and boss Keith Boardall says: "We keep everyone happy within the frozen food supply."