Trial of longer load times
10th January 2008
Page 9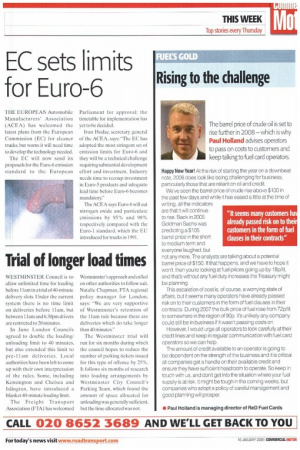 Page 9, 10th January 2008 —
Trial of longer load times
Close
WESTMINSTER Council is to allow unlimited time for loading before 1 lam in a trial of 40-minute delivery slots. Under the current system there is no time limit on deliveries before I lam, but between 11 am and 630pm drivers are restricted to 20 minutes.
In June London Councils agreed to double the loading/ unloading limit to 40 minutes, but also extended this limit to pre-1 lam deliveries. Local authorities have been left to come up with their own interpretation of the rules. Some, including Kensington and Chelsea and Islington, have introduced a blanket 40-minute loading limit.
The Freight Transport Association (HA) has welcomed Westminster's approach and called on other authorities to follow suit. Natalie Chapman. FTA regional policy manager for London, says: "We are very supportive of Westminster's retention of the llam rule because there are deliveries which do take longer than 40 minutes."
The Westminster trial will run for six months during which the council hopes to reduce the number of parking tickets issued for this type of offence by 25%. It follows six months of research into loading arrangements by Westminster City Council's Parking Team, which found the amount of space allocated for unloading was generally sufficient, but the time allocated was not.