AV BM OF THINGS TO COME
10th January 2008
Page 48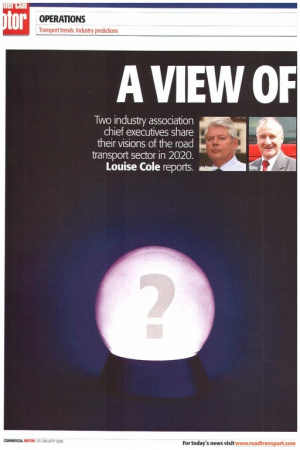 Page 49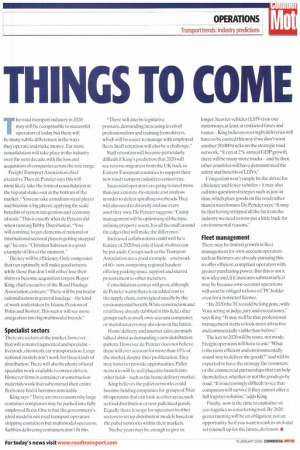 Page 48, 10th January 2008 —
AV BM OF THINGS TO COME
Close
Keywords :
Packaging
,
Logistics
,
Shipping
,
Marketing
,
Stobart Group
,
Tesco
,
Pallet
,
Containerization
,
Freight Transport Association
,
Cargo
,
Intermodal Container
,
Distribution
,
Business / Finance
The road transport industry in 2020 may still be recognisable to successful operators of today but there will be many subtle differences in the ways they operate and make money Far more consolidation will take place in the industry over the next decade,with the loss and acquisition of companies across the size range.
Freight Transport Association chief executive Theo de Pencier says this will most likely take the form of consolidation at the top and shake-out at the bottom of the market. "You can take a medium-sized player and become a big player, applying the scale benefits of system integration and economy of scale."This is exactly what de Pencier did when running Bibby Distribution. "You will continue to get elements of national or international sectoral players getting snapped up," he says."Christian Salvesen is a good example of this at the moment."
The key will be efficiency. Only companies that run optimally will make good returns while those that don't will either lose their shirts or become acquisition targets. Roger King, chief executive of the Road Haulage Association, concurs: "There will be particular rationalisation in general haulage the kind of work undertaken by Irlams,Prestons of Potto and Stobart.This sector will see more integration into big multimodal brands."
Specialist sectors There are sectors of the market, however, that will remain fragmented and specialist livestock, chemicals, car transportation. Large national models don't work for these kinds of distribution.There will also be plenty of local specialist work available to owner-drivers. However firms in container or construction materials work that subcontract their entire fleets may find it becomes untenable.
King says: "There are two reasons why large container companies may he pushed into fully employed fleets. One is that the government's ideal model is not road transport operators shipping containers but multimodal operators. Subbies delivering containers don't fit this "There will also be legislative pressure, demanding increasing levels of professionalism and training from drivers, which will be easier to manage with employed fleets Staff retention will also be a challenge."
Staff retention will become particularly difficult if King's prediction that 2020 will see reverse migration from the UK back to Eastern European countries to support their new road transport industries comes true.
Successful operators are going to need more than just a minute-by-minute cost analysis in order to defeat spiralling overheads.They will also need to diversify and use every asset they own. De Penciersuggests:"Canny management will be optimising all the time, utilising property assets. It is all the stuff around the edges that will make the difference."
Increased collaboration could well be a feature of 2020 but only if local rivalries can be put aside. Groups such as the Transport Association are a good example a network of 60+ non-competing regional hauliers offering parking space. support and shared procurement to other members.
Consolidation centres will grow. although de Pencier warns there is an added cost to the supply chain,outweighed usually by the environmental benefit.While construction and retail have already dabbled in this field, other groups such as small, own-account companies or manufacturers may also do so in the future.
Home delivery and internet sales are much talked about as demanding a new distribution pattern. However,cle Pencier does not believe these will ever account for more than 10% of the market, despite their proliferation.They may however provide opportunities. Pallet networks will be well placed to branch into other fields such as the home delivery market.
King believes the pallet networks could become holding companies for groups of 50 or 60 operators that can look at other areas, such as food distribution or non-palletised goods. Equally there is scope for operators in other sectors to set up distribution models based on the pallet networks within their markets.
Twelve years may be enough to give us longer, heavier vehicles (LHVs) on our motorways, at least at restricted times and routes King believes overnight deliveries will have to be carried this way if we don't want another 50,000 trucks on the strategic road network. "Even at 2% annual GDP growth there will be many more trucks-and by then other countries will have demonstrated the safety and benefits of LH Vs."
Congestion won't simply be the driver for efficiency and fewer vehiclesit may also call into question strategies such as just-intime, which place goods on the road rather than in warehouses. De Pencier says:"It may be that having stripped all the fat from the industry we need to now put a little back for environmental reasons."
Fleet management There may be limited growth in fleet management for own-account operators such as Bulmers are already pursuing this to offer efficient, compliant operation with greater purchasing power. But this is not a new idea and, if it increases substantially, it may be because own-account operations will soon be obliged to have a CPC holder even for a restricted licence.
"By 2020 theTCs could be long gone, with Vosa acting as judge,jury and executioner," says King. "It may well be that professional management starts to look more attractive and commercially viable than before."
The key 10 2020 will be route, not mode. Freight operators will have to ask:"What is the most efficient and environmentally sound way to deliver the goodsr and will be expected to have the strategy, the resources, or the commercial partnerships that can help them deliver, whether or not the goods go by road. "It is increasingly difficult to see that companies will survive if they cannot offer a full logistics solution," adds King.
Finally, now is the time to capitalise on eco-logistics as a marketing tool. By 2020 green running will be an obligation, not an opportunity. So if you want to cash in on it and set yourself up for the future, do it now. •