Cutting consumption
10th January 2008
Page 47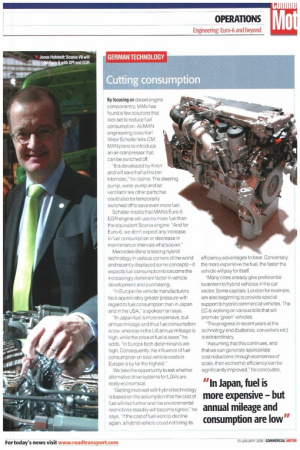 Page 47, 10th January 2008 —
Cutting consumption
Close
Keywords :
Alternative Propulsion
,
Energy Conservation
,
Electric Vehicles
,
Engines
,
Hybrid Vehicle
,
Fuel Efficiency
,
Diesel Engine
,
Fuel Economy In Automobiles
,
Fuel Saving Devices
,
Hybrid Electric Vehicle
,
Technology / Internet
,
Environment
,
Business / Finance
By focusing on diesel engine componentry, MAN has found a few solutions that look set to reduce fuel consumption. As MAN engineering boss Karl Viktor Schaller tells CM, MAN plans to introduce an air compressor that can be switched off.
"It is developed by Knorr and will save half a litre per kilometre," he claims. The steering pump, water pump and air ventilator are other parts that could also be temporarily switched off to save even more fuel.
Schaller insists that MAN's Euro-5 EGR engine will use no more fuel than the equivalent Scania engine: "And for Euro-6, we don't expect any increase in fuel consumption or decrease in maintenance intervals whatsoever."
Mercedes-Benz is testing hybrid technology in various corners of the world and recently displayed some concepts — it expects fuel consumption to become the increasingly dominant factor in vehicle development and purchasing.
'In Europe the vehicle manufacturers face appreciably greater pressure with regard to fuel consumption than in Japan and in the USA,' a spokesman says.
"In Japan fuel is more expensive, but annual mileage and thus fuel consumption is low, whereas in the US annual mileage is high, while the price of fuel is lower," he adds. "In Europe both determinants are high. Consequently, the influence of fuel consumption on total vehicle costs in Europe is by far the highest."
We take the opportunity to ask whether alternative drive systems for LGVs are really economical.
"Getting involved with hybrid technology is based on the assumption that the cost of fuel will rise further and the environmental restrictions steadily will become tighter," he says. "If the cost of fuel were to decline again, a hybrid vehicle could not bring its efficiency advantages to bear. Conversely, the more expensive the fuel, the faster the vehicle will pay for itself.
"Many cities already give preferential treatment to hybrid vehicles in the car sector. Some capitals, London for example, are also beginning to provide special support to hybrid commercial vehicles. The EC is working on various bills that will promote 'green' vehicles.
"The progress in recent years at the technology end (batteries, converters etc) is extraordinary "Assuming that this continues, and that we can generate appropriate cost reductions through economies of scale, then economic efficiency can be significantly improved," he concludes.